The 3 Best Toothpastes For Enamel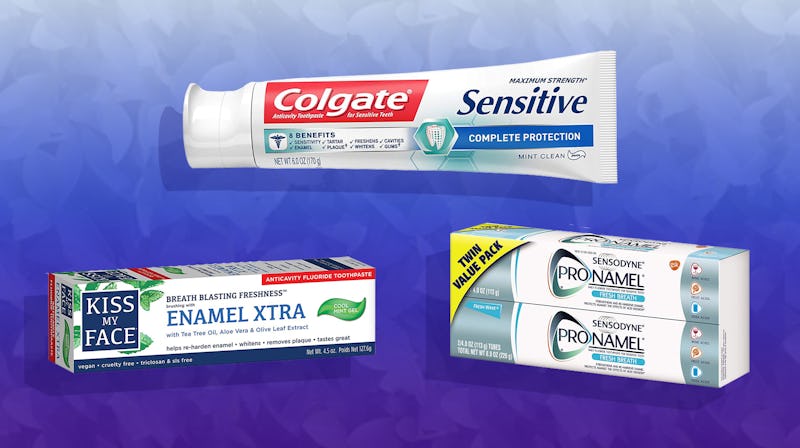 Amazon/Bustle
Given that some of the most delicious beverages and foods can erode your tooth enamel (I'm looking at you, coffee, wine, and citrus fruit), investing in one of the best toothpastes for enamel can be a smart move. But, many toothpastes claim that they can strengthen enamel. The truth? According to Vancouver-based dentist Dr. Scott Kollen, DMD, of River District Dentistry, there are only a handful of ingredients that actually help remineralize and strengthen enamel, and not every toothpaste contains them.
Dr. Kollen recommends that people "look for toothpastes like Pronamel that have fluoride, calcium, and phosphate in the ingredients. For those who are really cavity-prone, your dentist or pharmacist may recommend a prescription toothpaste like Cari0, Prevident, or ClinPro 5000," he tells Bustle.
There are also ingredients that people should look to avoid if they want to help strengthen their enamel, says Dr. Kollen, adding:
"Avoid non-fluoridated or abrasive, whitening toothpastes that will wear down enamel. Lots of cities, including my hometown of Vancouver, Canada, don't actually have fluoride in their water source, which makes using fluoridated toothpastes that much more important!"
For more details on the best toothpastes for enamel, keep scrolling. All the picks below have formulas packed with ingredients to help you remineralize and strengthen your enamel.