This Is The Best White Noise Machine For Tinnitus, According To An Expert Who Has It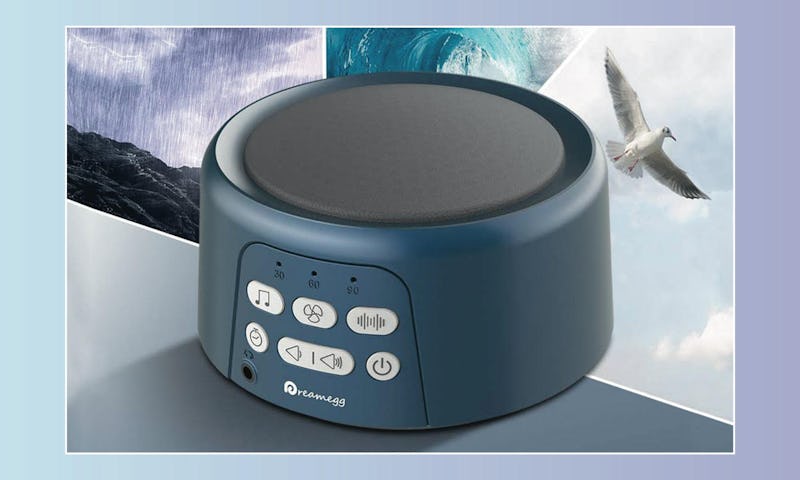 Bustle / Amazon
If your ears are always ringing, the best white noise machines for tinnitus may be able to help. Bustle touched base with Dr. Kelly Dyson — a board certified audiologist and tinnitus sufferer herself — to find out what features to look for in this kind of device.
Dr. Dyson says the more variety of sounds a noise machine offers, the better it is for tinnitus sufferers. "When patients can invest in a unit with more sounds, they may have an option for 'sounds of the forest' or 'rainstorm.' This is helpful for folks who have a tinnitus that pulses or is not just a single, steady sound." she says.
She also suggests looking for a device that offers some versatility, meaning that it not only plugs into the wall but may be used with batteries or is rechargeable. More specifically, Dr. Dyson recommends the Sound Oasis BST-100. "It also doubles as a Bluetooth speaker and is small enough to fit into a carry-on bag when traveling."
It's also wise, when shopping for noise machines, to consider your lifestyle, and the way tinnitus affects your daily life. If you're mostly looking for a way to combat tinnitus symptoms at bedtime and while you're sleeping, then battery life is probably going to be a more important feature for you than portability. Look for a device with at least eight hours of battery life to get you through a night of sleep. If tinnitus is something that interferes with your life at all hours, then portability is key — especially if you work outside of your home. Headphone jacks are nice to have for work situations as well.
According to Dr. Dyson, it might be worth the money to invest in a high quality machine right off the bat. "Some of the more inexpensive machines have cheaply made or poorly designed buttons that break off with repeated usage," she says.
With all of that in mind, check out the best white noise machines for tinnitus. There's a pick for every budget, they meet most (if not all) of Dr. Dyson's criteria, and they're all highly rated on Amazon.