The High-Quality, Low-Cost Chef Knives You Should Gift The Home Cook In Your Life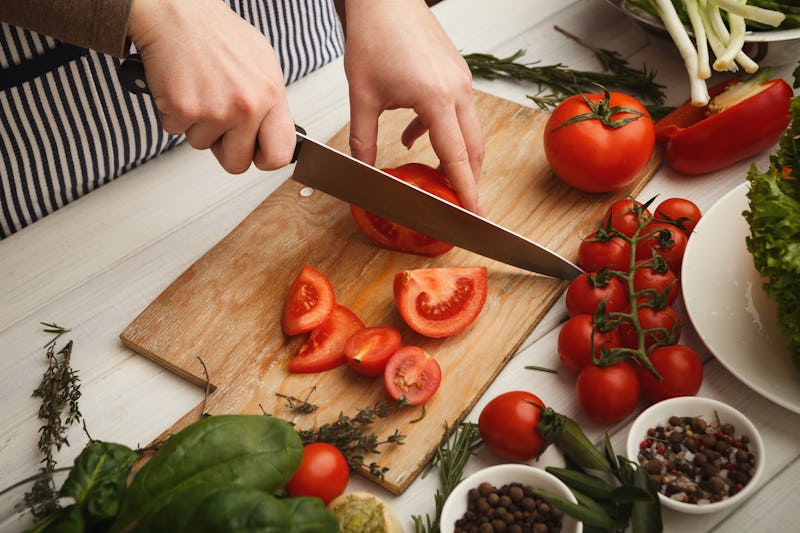 Prostock-studio / Shutterstock
A good chef's knife can change the way you cook, speeding up your slicing and dicing while reducing the chances of nicked fingers. But if you don't want to drop a ton of cash on a fancy (read: expensive) knife, the best chef's knives under $50 can still offer huge benefits to home cooks.
Before you purchase a chef's knife, take a look at what material the knife's blade is made of. Steel blades with high carbon content tends they also tend to change color over time in a process known as patination. If you don't like the aesthetic of patina, you'll want to opt for a stainless steel blade with a low carbon content, which won't react much to the environment and is less prone to alterations in color or rusting, but low-carbon options also don't stay sharp as long as their high-carbon counterparts.
You should also take note of the knife's tang, or the part of the blade that extends into the handle. Knives with full tangs, or blades that run all the way through to the end of the handle, tend to be stronger than their counterparts with shorter tangs. Often you can identify a full tang as a silver stripe that extends along the top and bottom of the knife's handle.
Finally, you should consider the knife's bolster, which is where the handle first meets the heel of the blade (or the edge that runs from the handle to the cutting board, opposite the blade's tip). The bolster is typically thicker than the tip of the blade to give the knife strength and balance. In some cases, the bolster is rounded and serves as a protective barrier between your hand and the knife. If you have concerns about your hand slipping onto the sharp heel of the blade, you should consider a knife with a solid bolster on the blade or built into the handle.
The knives on this list are all 8-inch chef's knives, which are a good choice for most home cooks and can be used for everything from dicing vegetables to slicing meat. While many manufacturers list their knives as dishwasher safe, it's best to hand wash your knives if you can to minimize chips, stains, and dulling.
These chef's knives are the answer to all your basic chopping needs, no matter your experience, skill, or budget — plus, they're all available on Amazon.