These Collagen Creams Have All-Star Ingredients That Deliver Dewy Fresh Results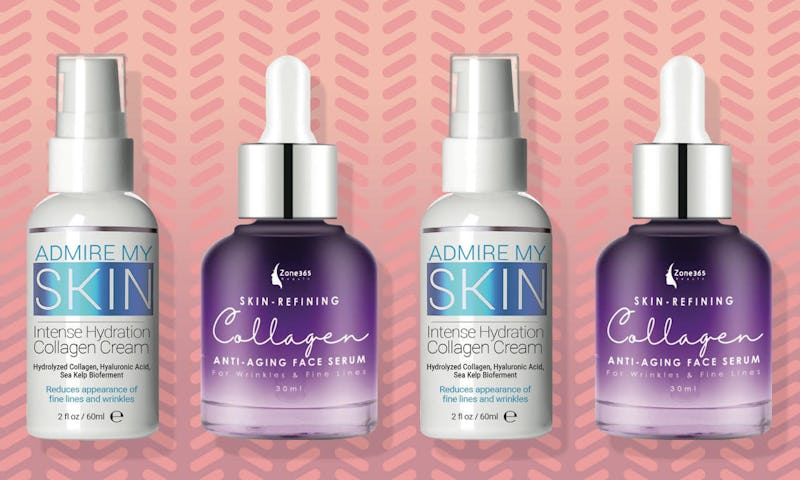 Bustle / Amazon
Collagen creams and supplements have gained steam in recent years with promises to pump up the collagen reserves in your skin that naturally diminish over time. While these claims have rightfully been called out for lacking scientific backing, the best collagen creams contain a handful ingredients that do deliver actual results — you just need to dig into the entire ingredient list to ensure you're getting a quality cream.
Why Most Collagen Creams Lack Credibility
To understand why collagen creams might be more hype than anything else, it's worth looking at the skin itself. The epidermis, the outermost layer of the skin, acts like a nightclub bouncer — its job is to keep irritants out, so any product that claims to boost collagen first would need to get past the epidermis in order to get down to where it can be the most effective, which is at the dermis level (where most collagen is found). Unfortunately, collagen molecules are made of a large triple helix of proteins that are just too big to get past the "bouncer."
What Shows Promise
Hydrolyzed collagen has been broken down into smaller molecules and some studies have found that collagen in this form has been successful when used for cosmetic purposes. However, there isn't a ton of scientific data on this yet, so even hydrolyzed collagen shouldn't be considered the holy grail ingredient for right now. That said, if you're going to buy a collagen cream, make sure it's using hydrolyzed collagen at the very least, since it has the best chance of penetrating the epidermis.
The good news is that most collagen creams include other ingredients that round out any good moisturizer, like collagen-boosting retinol, deeply hydrating hyaluronic acid, or skin-friendly antioxidants like baobab oil. You can reap those benefits even while the jury is still out on collagen.
What Is Medically Proven
Interestingly, studies have found that ingesting collagen peptides has helped improve skin elasticity and firmness; that's why I included an oral collagen powder option here as well.
With all that in mind, these are the best collagen products to help you get your glow on.
We only recommend products we love and that we think you will, too. We may receive a portion of sales from products purchased from this article, which was written by our Commerce team.