These Easy-To-Use Dog Ball Launchers Will Make Fetch More Fun For You & Your Pooch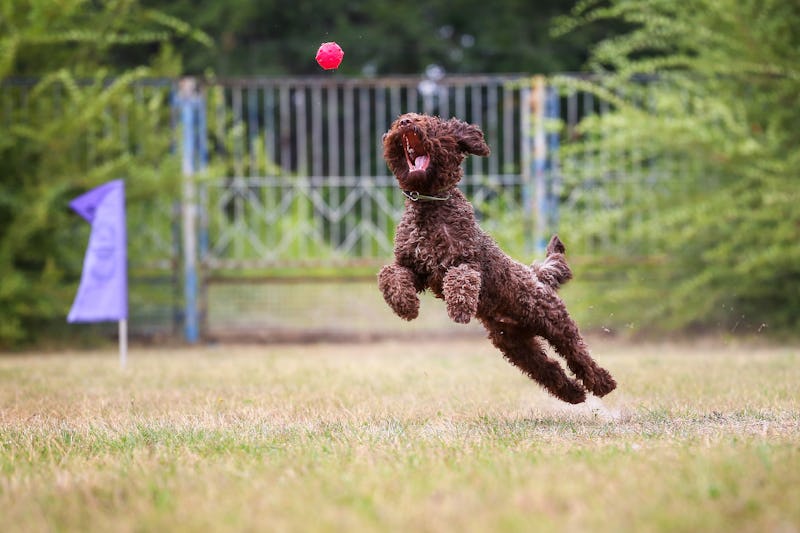 Yuriy Koronovskiy / Shutterstock
You can easily make the next round of fetch with your dog more exciting by using one of the best dog ball launchers. These fun gadgets throw balls automatically or make tossing balls easier, allowing you to play with and exercise your pooch for longer periods without wearing yourself out. Just make sure to get a launcher designed for your dog's size. While launchers that shoot out tennis-size balls are great fun for bigger dogs, those balls might be too big for smaller pups.
When choosing a launcher, you'll first need to decide between a manual or automatic model. Manual launchers are ideal for pet owners who want to bond and play with their dogs. With manual ball launchers, you usually have to chuck or pull a trigger for the ball to go. The chucking style requires a little more effort to toss, but they're super affordable. Trigger-style launchers cost a little more but are easier to use, and you're usually able to send the ball longer distances than with a chuck-style launcher.
For a more hands-off option, automatic dog ball launchers instantly shoot balls out for your pet to catch. They're great for those pet owners who can't toss balls or are busy but still want their dog to stay active. However, when starting to use an automatic launcher, be sure to train your dog to get out of the way once the ball is dropped in and keep an eye on them as they play so that they don't overexert themselves.
To make the selection process super simple, here's a quick list of the best dog ball launchers on Amazon. All of these options will make fetch more fun for both you and your pooch.