If You Have A Long-Haired Dog, These Brushes Are Going To Be Life-Changers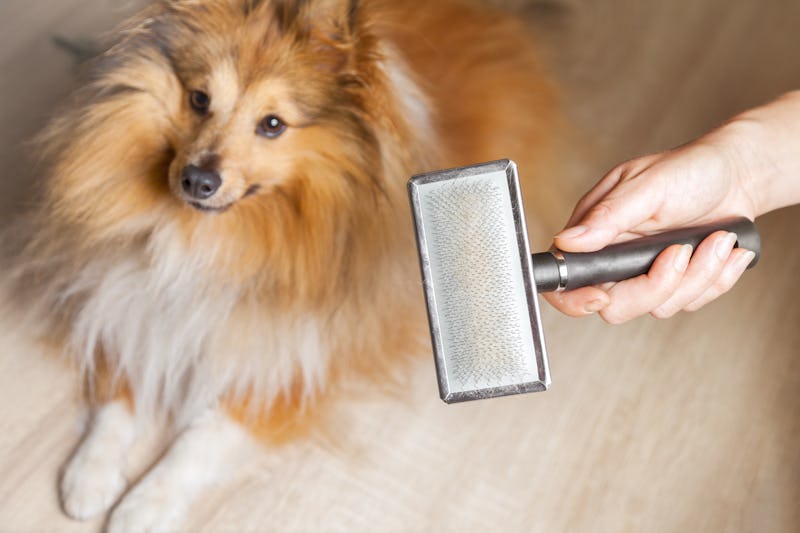 Joerg Huettenhoelscher / Shutterstock
Whether you have a sheepdog or terrier, the best dog brushes for long hair can help keep their coat in top condition. You should always choose a brush that works for your dog's hair length and coat type so as to avoid pulling or scratching at their delicate skin. The three most common types of dog brushes are slicker, bristle, and wire-pin. Depending on your dog's coat type, you may need more than one variety of brush to groom properly.
Slicker brushes are the best option for medium-to-long hair and curly double-coat breeds like retrievers, poodles, bichon frise, huskies, and American water spaniels, as they help to remove knots and tangles from both the top and undercoat. For breeds with long, thin, and silkier coats, such as maltese and Yorkshire terrier, a soft bristle brush will suffice to smooth out that hair. Also, for de-matting on long-haired coats, a wire-pin brush can be used. In fact, since many dog parents find they need a soft bristle brush for everyday grooming and a wire-pin brush for more serious detangling, some brushes are a combination of the two so that you have all you need in one bristly package.
Brush type aside, there are a few other factors worth considering. Look for a brush that's ergonomically shaped for a comfortable grip. Some brushes are self-cleaning, with retractable bristles that make it easy to remove any fur they've collected. And if your dog hates being groomed, a brush that fits in your palm will be less visible and may provoke less anxiety.
Scroll on for my roundup of the best dog brushes for long hair to keep your furry friend looking their finest.
We only recommend products we love and that we think you will, too. We may receive a portion of sales from products purchased from this article, which was written by our Commerce team.