Get Your Pooch Smelling & Looking Great With These Gentle Odor-Fighting Dog Shampoos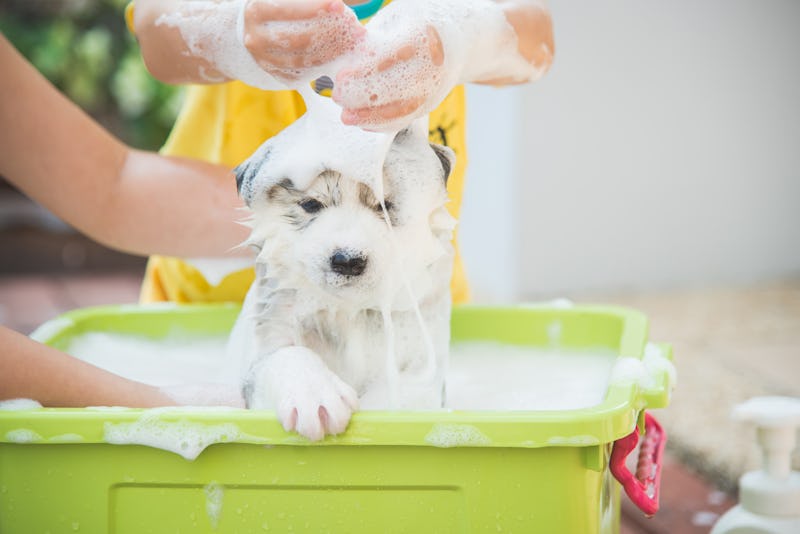 ANURAK PONGPATIMET / Shutterstock
Whether they're digging through the trash, playing in the mud, or chasing after a skunk, dogs often get into the smelliest of situations. So having the best dog shampoos for odor on hand is a necessity for any dog parent.
Can I use my regular shampoo on my dog?
While it is easy to think that your scented hair shampoo might help to get rid of your dog's smell, they're actually not a great choice for your pet. Dog and human skin have different pH levels, so when you use a human shampoo on a dog, you could actually cause your pet's skin to become dry and flaky, and even be vulnerable to parasites, viruses, and bacteria.
What should I look for in a dog shampoo for odor?
The strongest dog shampoos that neutralize odors will control bacteria and wash away extra oil and grime on your pet's skin and often have labels that say things like "odor control." While fragrance can leave your pooch smelling great, if you don't want to use any artificial fragrances on their skin, look for shampoos that contain essential oils like lavender or are completely fragrance-free. Beyond that, pay attention to the other ingredients in the shampoo, especially if your pet has sensitive skin. Ingredients like parabens (or other preservatives) and sulfates (which make shampoo super sudsy, but could potentially irritate your dog's skin) do appear in some dog shampoos, so if you choose to avoid them, make sure to read the product label before purchasing.
Some dog shampoos are also designed for other needs, too, like helping control shedding. But, if your dog gets sprayed by a skunk, it's best to use a special skunk odor remover before shampooing to permanently get rid of this smelliest of scents, and I've even got a pick that will do just that. (And yes, it works better than tomato juice.)
Leave your pooch smelling fresh as new with these top-rated dog shampoos from Amazon.