If Your Pooch Has Sensitive Skin, These Are The Best Gentle Shampoos To Get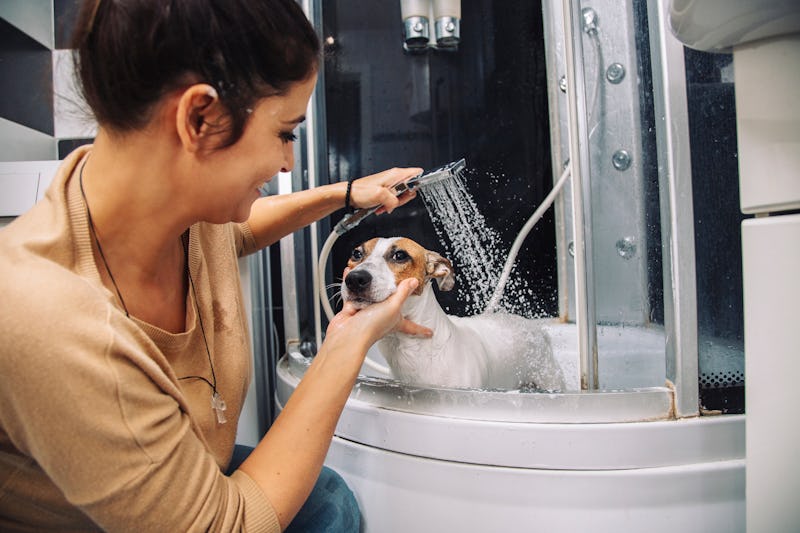 Una Shimpraga / Shutterstock
If your dog experiences itchiness or is prone to allergies, using one of the best dog shampoos for sensitive skin can help ease those symptoms. Look for natural ingredients in your pet shampoo like aloe vera gel and oatmeal to help soothe and moisturize when washing. And since allergies are a common cause of sensitivity, it is helpful to look for hypoallergenic formulas specially designed to be unlikely to stir up an allergic reaction.
When shopping for sensitive skin shampoos, what's not in the formula is as important as what's in it. Avoid options with harsh ingredients like sulfates, parabens, isopropyl alcohol, artificial colors, and fragrances that could irritate your sensitive dog. Also, avoid using human shampoos on your pet. Dog and human skin have different pH levels so using human shampoo on your pet can throw off their skin's pH balance causing more harm than good.
While most dogs don't need conditioner to follow it up, it's a good idea to use a conditioner if you wash your dog more than once a month, and if your pet has itchy skin or is prone to tangles. While one of these picks is a shampoo and conditioner in one, I've also included a conditioner at the end of this list that's fragrance-free and gentle on sensitive skin.
To make picking the perfect shampoo for your furry pal easy, here are the best dog shampoos for sensitive skin. All of these formulas have natural ingredients to help hydrate and heal your pet's delicate skin.