These Soothing Essential Oils Could Help Reduce Your Stress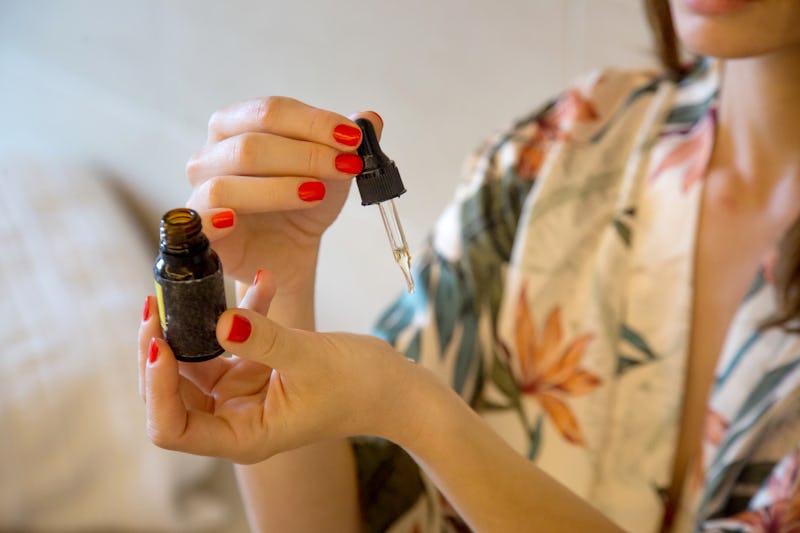 When you're experiencing stress, a good smell can be soothing. The scent of apple pie in the oven or a loved one's perfume provides comfort, which is why it stands to reason that the best essential oils for stress relief tap into your sense of smell in order to help you relax.
Essential oils are derived from plants and come in a wide range of scents that are said to evoke a variety of feelings. While some essential oils are considered to be energizing, studies have found that lavender, chamomile, bergamot, and ylang ylang essential oils, among others, could calm your mind and reduce your stress.
Essential oils come in the form of drops that you can use in a diffuser, add to bath water or shower products, or place on a cotton ball or tissue and inhale. You can also find aromatherapy mists that leave behind a soothing scent when sprayed in the air or on bedding. Some essential oils can cause irritation when applied directly to the skin, so always make sure to consult your doctor, double-check the product's directions on its packaging, and dilute any essential oils before touching any pure oil.
While scientists haven't definitively proven that aromatherapy can relieve stress on its own, there is anecdotal evidence that some people find it helpful. Some experts warn against the use of essential oils on children, while you're pregnant or breastfeeding, or if you have underlying health issues — but if you have a clean bill of health and the OK from your doctor, you might choose to give essential oils a try.
From calming pure lavender oil to a stress-busting set of blended oils, here are some of the best essential oils to encourage relaxation and reduce stress.
We only recommend products we love and that we think you will, too. We may receive a portion of sales from products purchased from this article, which was written by our Commerce team.