These Highly Rate Freezer Bags Are The Key To Making Your Food Last Longer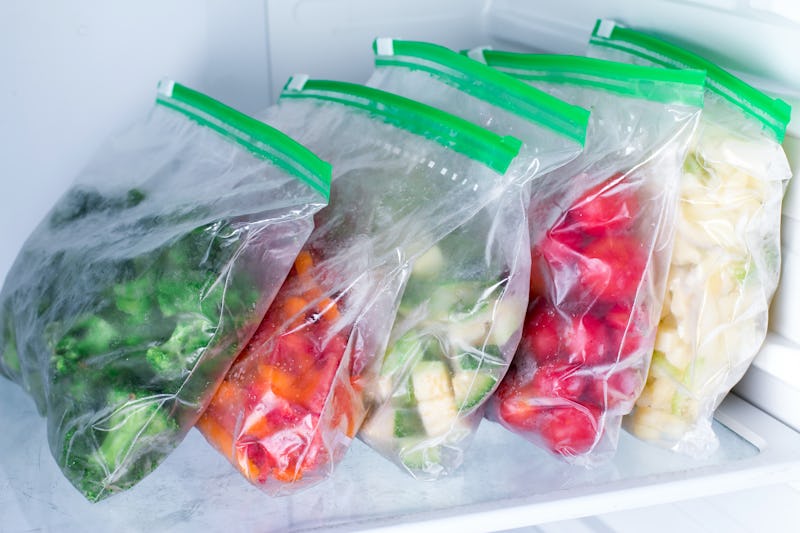 Ahanov Michael / Shutterstock
The key difference between the storage bags designed for the freezer and standard kitchen storage bags, is that best freezer bags are much thicker. Thicker bags can better withstand the extreme temperature of the freezer so that your food doesn't end up freezer-burned. When buying freezer bags, your budget is the main thing you're going to need to consider. The biggest difference between cheaper disposable freezer bags and a pricer ones is the type and the quality of the zipper seal (see more on that below). Alternatively, you may want to opt for a reusable freezer bag — they're more expensive up front, but they may save you money in the long run.
Types Of Zipper Closures
When shopping for freezer bags, you'll notice that the main distinction between the different options is the type of zip closure at the top of the bag:
A slide zipper, which slides across the top of the bag to seal it shut, is great because it ensures that the top of the bag is completely closed, keeping your foods fresh and preventing any leakage. Bags with a slide zipper tend to be more expensive.
A press-to-close zipper top can also seal effectively, but you'll have to manually line up the zipper closure and press it shut yourself. As a result, there's more room for human error, since it's sometimes hard to tell when bags are fully sealed (which is a big problem if you're trying to freeze liquids like soup). These bags are usually cheaper, though.
Whether you're looking for a disposable zipper bag or a reusable option, reviewers on Amazon indicate that these seven freezer bags are must-haves for food storage. These bags are sturdy, seal well, and — most importantly — can keep all types of food safe from freezer burn.
We only recommend products we love and that we think you will, too. We may receive a portion of sales from products purchased from this article, which was written by our Commerce team.