The 4 Best Magnesium Supplements For Anxiety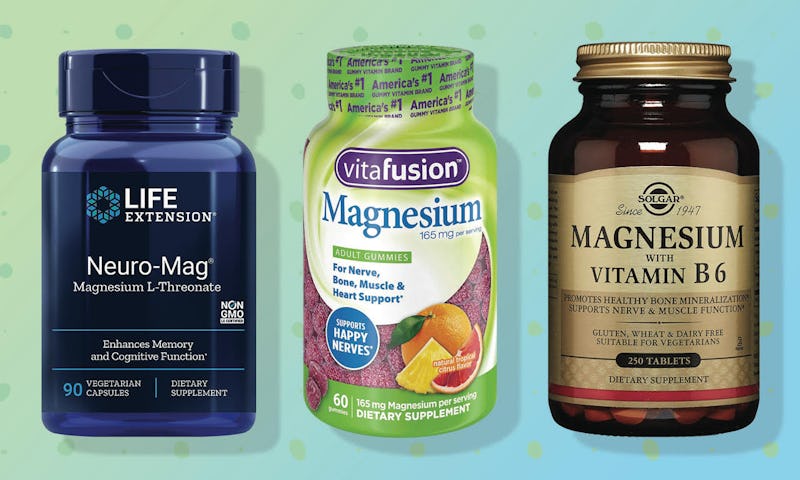 Bustle / Amazon
If you feel anxious regularly, you should reach out to a healthcare professional to determine if medications might be right for you. If your doctor thinks a supplement will help in aiding daily stress, the best magnesium supplement for anxiety might be a worthwhile addition to your routine. However, there are actually quite a few different kinds of magnesium to chose from, so it's important to focus on the ones that will have the most impact on anxiety specifically.
Types Of Magnesium
To learn more about the myriad magnesium options, Bustle touched base with Dr. Kasey Nichols, a naturopathic doctor and health expert at Rave Reviews.
Magtein: Dr. Nichols suggests shopping for a supplement containing magnesium L-threonate because of its ability to cross the blood-brain-barrier (BBB). "The BBB is a collection of tightly knit cells that protects the brain from things that may be occurring in the rest of the body. Magnesium L-threonate has properties that other forms of magnesium lack that helps it cross the BBB more easily," Nichols says. More specifically, Dr. Nichols suggests taking supplements containing Magtein, a special kind of magnesium L-threonate that has been studied by researchers at MIT and has shown to be beneficial for aspects of cognition. In a 2013 study, it was found that Magtein can improve memory and reduce anxiety-like behavior in young and aged rats. Magtein also helped with the retention of fear extinction in animal models.
Magnesium Oxide: Most human studies on magnesium and anxiety focus on other kinds of magnesium, including magnesium oxide. In one such study, women who took 200 milligrams of magnesium oxide with 50 milligrams of vitamin B6 on a daily basis reported a significant decrease in anxiety-related premenstrual symptoms, including nervous tension, mood swings, and irritability. A 2017 scientific review of multiple studies found evidence suggesting that magnesium can reduce anxiety — and one of the studies referenced in that scientific review found that participants who took 200 milligrams of magnesium oxide everyday reported higher quality of life at the end of the study.
Finding The Right Dosage
According to the U.S. Department of Health and Human Services, adults should take between 310 and 420 milligrams of magnesium daily, depending on their weight and gender.
Check out the best magnesium supplements for anxiety below. All of them fall in line with the proper dosage, and they're all highly rated on Amazon.