From Squatting To Slamming, These Are The Best Medicine Balls For Maximizing Your CrossFit WODs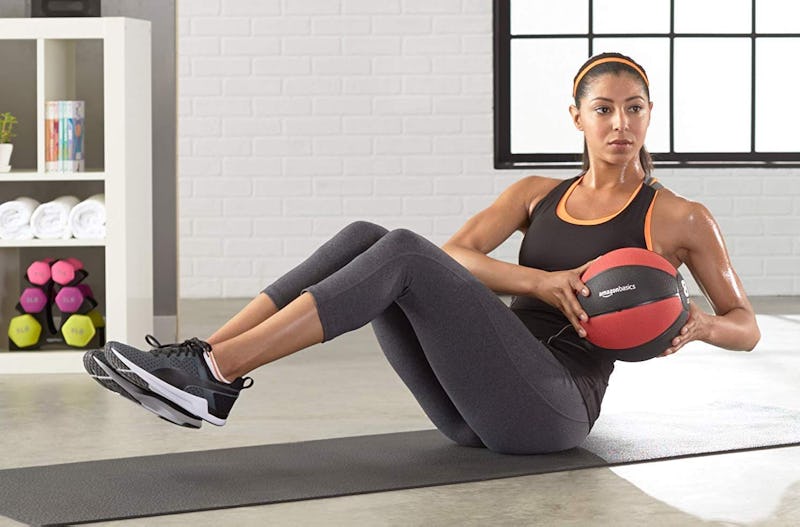 Amazon
Medicine balls have been around for centuries. From the gladiators of ancient Rome to modern day athletes, the medicine ball is known for improving speed, balance, and core strength. They're especially great for CrossFit workouts because they add resistance to common exercises like squats and lunges and work well for interval training. The best medicine balls for CrossFit are those that are durable and have a textured grip to keep them from slipping during a workout.
The most common types of medicine balls used in CrossFit are similar to the size and texture of a basketball, though much heavier. They are typically crafted in a rubber or leather material and filled with sand or gel materials. They bounce off surfaces, so they're better for lifting or adding resistance to your workout routine.
In addition to traditional medicine balls, there are also two weighted tools used at a box:
Slam balls: Great for "slamming" or throwing on the floor, these are usually filled with sand and have more give than others, so they won't bounce back. Keep in mind, when you're using a medicine ball for slamming, it's important that it does not bounce. Ones that bounce are harder to control and has the potential to cause injury.
Wall balls: These are meant to be thrown against a wall. Like slam balls, they're usually filled with sand. What makes them different is that they have a soft outer shell that's meant to absorb impact when tossed. These kind also tend to be bigger than other medicine balls.
When choosing the best medicine balls for CrossFit, it's also important to consider size and weight. If you're a beginner, it may be better to start lighter (weights start at 4 pounds and can go as heavy as 60 pounds) and smaller (diameter range is 6 to 14 inches). If you have small hands, it may be easier to grip a smaller one than larger ones. But when it comes to what size medicine ball for CrossFit, choosing one that you can easily grip during a fast-paced workout is key.
Check out the best medicine balls on Amazon below.