These Nail Files Are Game-Changers If You Have Weak Nails — & Here's Why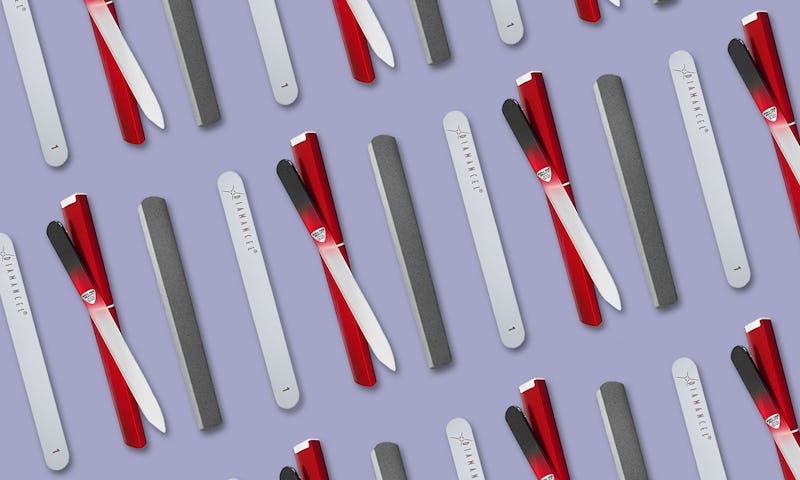 Amazon/Bustle
Keeping up with nail care when your nails are brittle is so, so important. Getting your nails strong and healthy is actually quite simple with the correct tools in your beauty bag — namely, one of the best nail files for weak nails.
If your nails feel thin and dry or you find yourself dealing with painful cracking and peeling, there are a number of possible causes. Besides certain vitamin deficiencies (which you should definitely ask your doctor about), the weakness could be attributed to the constant use of acrylics, polish, or other irritating chemicals (like nail polish remover). But the good news is, utilizing the right nail file can actually reverse this damage with a minimal amount of upkeep on your end.
While you may feel overwhelmed by the amount of different nail files on the market these days, you can breathe easy knowing that I'm about to give you the benefits and drawbacks of a few options to guide your search. For example, weak nails that break easily and refuse to grow probably need a little TLC from a glass or a crystal nail file, but there are budget options like fine emery boards that do the trick between manicures, too. And for those who love a good splurge, just wait until you see the prestige file I found.
Nevertheless, believe me: Gone are the days of feeling like you have to shell out money for routine manicures. By choosing one of the four nail files below and maybe investing in the best nail strengthening polishes for weak nails, you'll surely be able to make your nails stronger.