These Are The Best Running Shoes For Bunions, According To An Expert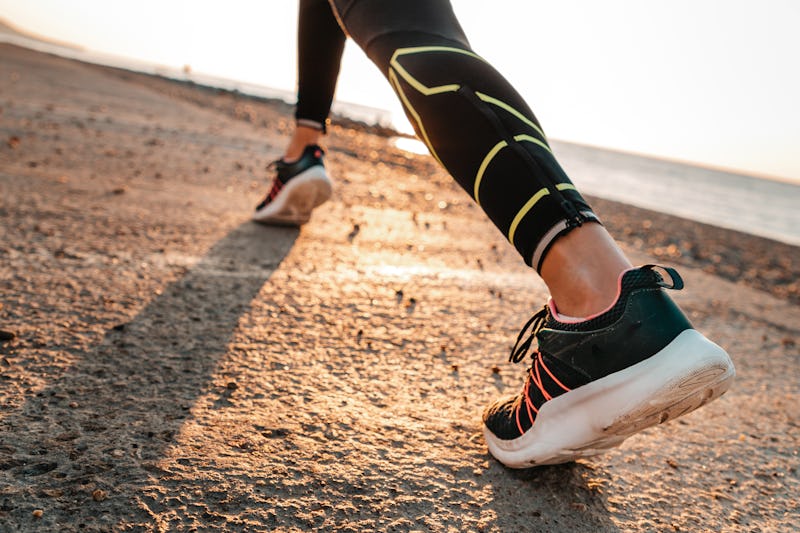 Shutterstock
If you're a runner trying to manage bunions (or avoid getting them in the first place) you need the best running shoes for bunions. Bustle reached out to Dr. Alice Holland, DPT at Stride Strong Physical Therapy in Portland, Oregon. Her expert advice informed this curated list of shoes for the bunion-prone, but it's always a good idea to consult your doctor as well.
Dr. Holland says the specific feature you want to look out for in a running shoe for bunions is a wider toe box. "If your big toe is being scrunched into a narrow toe box in the shoe, this shoe is too narrow for you," she says. Dr. Holland says she's a big fan of Altras as they have wider toe boxes. "Some Asics and New Balances can accommodate wider feet and bunions as well but you would have to inspect how your foot fits in those specifically," Dr. Holland says.
According to Dr. Holland, the best way to avoid developing bunions in the first place is to be "cognizant of your shoe wear choice" and make sure you are choosing footwear that "allows for toe freedom of movement — be it athletic, dress, or casual shoes." It's also important to note that, while wearing narrow shoes can certainly trigger a bunion, bunions also tend to run in families, according to Harvard Health.
With all of that in mind, check out the best running shoes for bunions. They all have wide toe boxes and they're highly rated.