How To Prevent Your Shower Drain From Getting Clogged For Less Than $15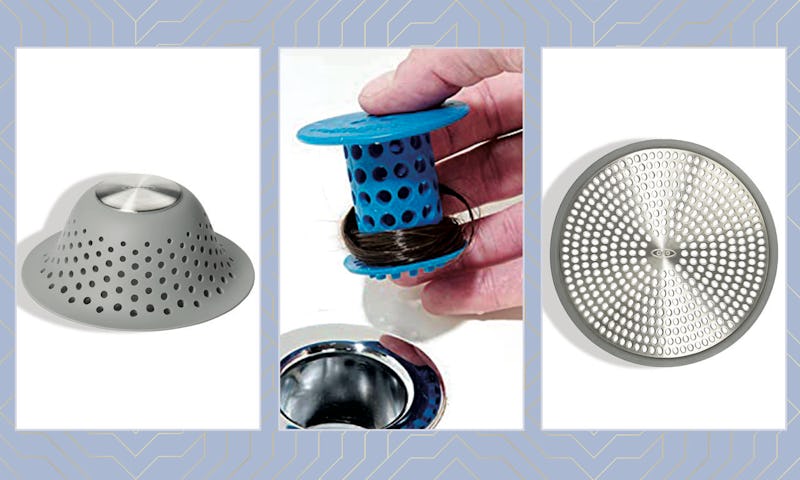 Bustle / Amazon
Calling a plumber to remove hair from a clogged shower drain can be costly and inconvenient. Fortunately, the best shower drain hair catchers stop your hair from clogging the drain, all while still allowing your shower water to flow as usual.
The 2 Types Of Drain Catchers
When searching for a shower drain hair catcher, you'll notice there are two main types:
A shower drain screen captures hair and other debris before it has the chance to slip in. Simply place it over the drain and get rid of the collected hair when you see that it's full. Only downside to this style? It may not stay in place as well as an in-drain catcher. To help with this, some options are weighted or have suction cups.
An in-drain hair catcher grabs the hair as soon as it enters the drain. It can be a bit more complicated to install if you have a drain cover, since you'll need to remove it, but it's still totally doable for most. Since it sits inside the drain, you may not notice when it needs a good cleaning — make sure you check regularly to see if it needs emptying.
Drain Catcher Materials
There are a couple of different material options to consider:
Silicone is flexible, easy-to-clean, and won't slip around the shower.
Stainless steel is rust-resistant and durable, but may not stay in place quite as well.
Plastic catchers tend to be flimsy and can get grimy quickly. Because of this, there are no plastic drain catchers on this list.
The average woman loses between 50 and 100 strands of hair per day, and unclogging your own drain is possible but really gross, so pretty much everyone can benefit from using these nifty devices. These four shower drain hair catchers are favorites on Amazon, with thousands of reviews backing their effectiveness.
We only recommend products we love and that we think you will, too. We may receive a portion of sales from products purchased from this article, which was written by our Commerce team.