These 4 No-Spill Wine Glasses Take The Hassle Out Of Taking Your Drink To Go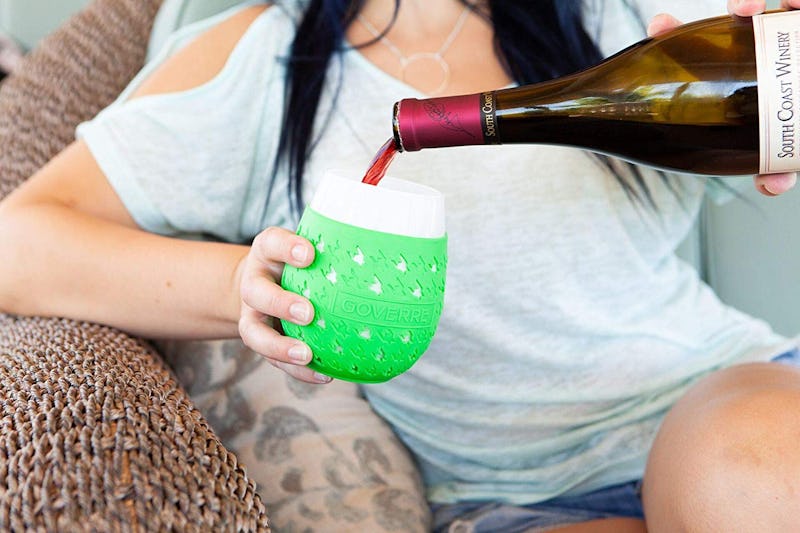 Amazon
Spill-proof wine glasses are perhaps one of the greatest inventions out there. They're perfect for outdoor parties, picnicking, or when you just want a glass of vino without worrying about getting wine on your white shirt. You can find the best spill-proof wine glasses in glass or stainless steel, with or without lids.
Many wine connoisseurs insist wine should be consumed from a glass vessel because the thick material has the ability to reduce heat transfer, so when you're holding it, the warmth from your hand won't affect the temperature of your wine as much. With glass, you'll also avoid potential flavor abnormalities that come with drinking from cups made from other, more porous materials. Plus, glass lets you observe the wine's "legs" and colors.
On the other hand, stainless steel wine goblets are a decent alternative because they're virtually unbreakable, thus further preventing leaks or spills. Stainless steel cups are often insulated, so in addition to keeping your wine at just the right temperature, you can also use them for transporting hot beverages. However, keep in mind that steel could still possibly impart an unwanted flavor into your drink.
Choosing a wine glass with a lid will not only help guard liquid from overflowing, it will also help block insects — or other debris — from contaminating your drink. Only one of the picks below doesn't come with a lid because it's designed to also let the wine inside breath.
Whether you're heading to the beach, an outdoor concert, or just hanging out with friends on your front porch, the best spill-proof wine glasses will make your wine-drinking experience all the more tasteful and mess-free.