Omega 3's Are Notoriously Hard To Get With A Plant-Based Diet, So Try These 4 Vegan Supplements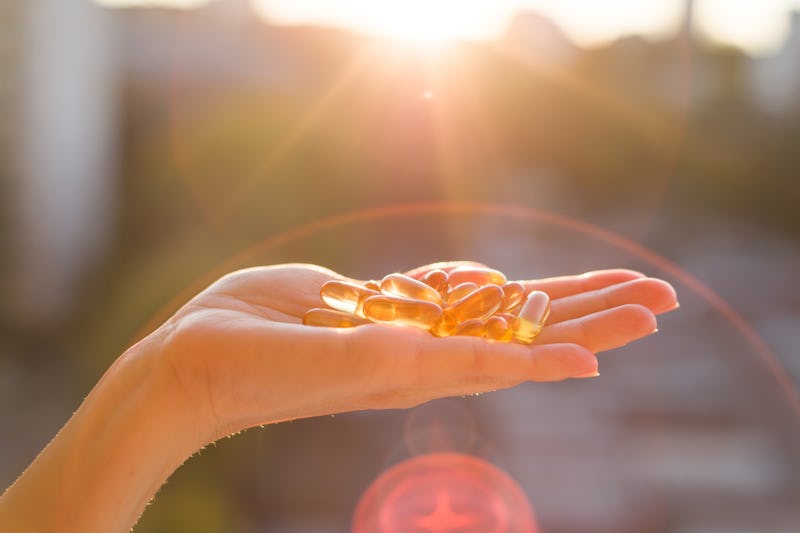 Shutterstock
Whether you're vegan or vegetarian, the best vegan omega-3 supplements can help you get all the fatty acids your body needs from plant sources. Bustle spoke with plant-based dietician and co-author of The Healthspan Solution, Julieanna Hever, to learn more about what to look for in a vegan omega-3 supplement. Below, I've included the supplement she personally recommends, plus three more picks that meet her dosing criteria.
While microalgae-based omega-3 products seem to be trending these days, Hever says there are really just two things to look for in a vegan omega-3 supplement. "What matters most is that the supplement contains both EPA and DHA," Hever advises. The omega-3 fatty acids, DHA (docosahexaenoic acid) and EPA (eicosapentaenoic acid), work together to help reduce inflammation and risk of developing certain chronic diseases. Individually, DHA works to protect brain function and eye health.
Sources for DHA & EPA
Algae-based supplements are created when nutrient-rich algae, like chlorella and spirulina, are harvested from fresh-water lakes and algae farms. Both DHA and EPA can be found in this algae, as well as in nori.
While taking a vegan omega-3 supplement is a good idea, Hever also recommends adding some plant foods like chia seeds and walnuts to help increase your omega-3 levels. These foods contain ALA (alpha-linolenic acid), which, in addition to being an omega-3-rich fatty acid, can also be converted into EPA and DHA. "Because the guidelines are not set quite yet for optimal omega-3 intake for vegans, I would recommend aiming to consume double the recommended ALA from flax, chia, hemp seeds, walnuts, and soy foods, as well as considering a supplement that contains 200-300 milligrams per day of both DHA and EPA," Hever says. Regarding daily ALA intake, the National Institutes of Health recommend 1.6 grams for men and 1.1 grams for women (ages 14 and older).
So here are the best vegan omega-3 supplements around.