4 Water Cooler Dispensers That Deliver Clean, Filtered Water — & They're All On Amazon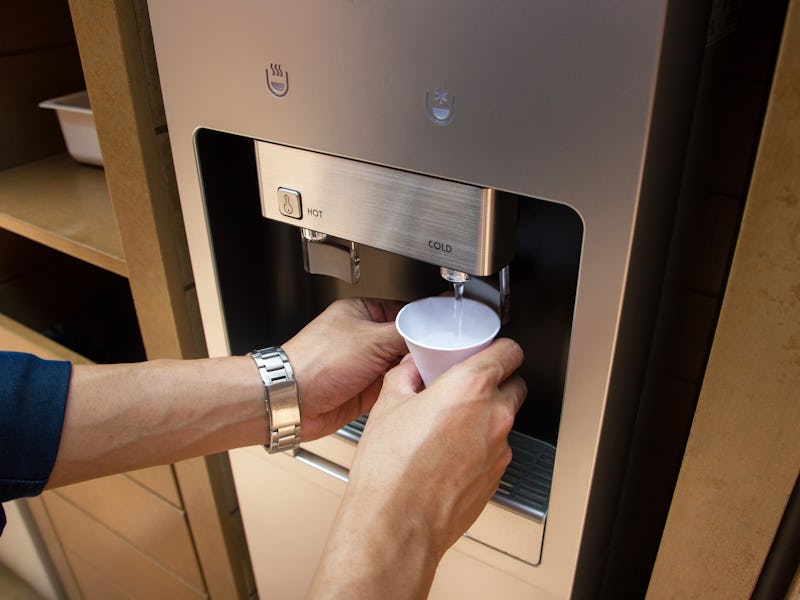 shutterstock/Siriranya Studio
Whether you've committed to using a refillable water bottle instead of single-use plastic, or are looking for a safer source of water than your tap, the best water cooler dispensers give you access to clean, filtered water on demand. But when it comes to finding the best dispenser, there are a few things to keep in mind.
First decide if you want a top-loading or bottom-loading water dispenser. For background, typical water jugs hold 3 or 5 gallons, the latter of which weighs about 40 pounds. Bottom-loading dispensers offer an easy way to load your water jug because they don't need to be lifted and inverted. Instead, the opening faces up and water is pulled from the jug using a probe and tube. And, because the jug is stored in a cabinet, bottom-loading dispensers are discrete and tend to blend in with furnishings. However, if a 5-gallon jug is no match for you, or if you have someone helping you, a top-loading dispenser lets you easily view how much water you have left in your jug, and they tend to be a bit more affordable than bottom-loading dispensers.
For the most versatility, look for a dispenser that offers cold, room temperature, and hot water for beverages and items like soup and hot cereal. You'll also find machines that dispense water with a paddle, lever, and button, so decide which operation you prefer.
Fresh, filtered water at home doesn't need to be a luxury. Keep scrolling to see the best water cooler dispensers below.