These Are The 5 Best BaByliss Flat Irons You Can Get On Amazon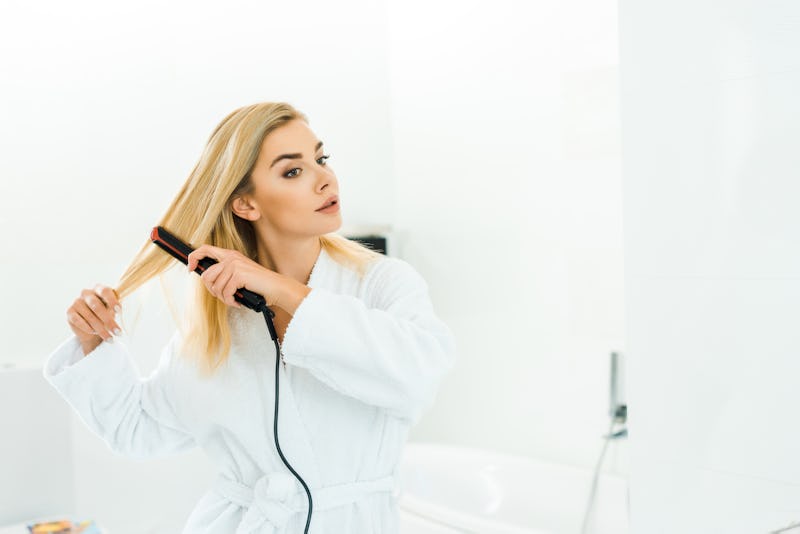 Shutterstock
BaByliss hair styling tools have a long history and a ton of fans. The beauty brand's hair dryers and curling irons get consistently high marks from users and our picks for the best BaByliss flat irons are just as fantastic.
Figuring out which BaByliss hair straightening tool is the best choice for you depends mostly on your hair type and which type of plate material corresponds to your needs. There are two types of heating technology you'll see with most flat irons:
Ceramic plates: Using a tool with ceramic plates is the best way to protect fine or easy-to-straighten hair from unnecessary heat damage. Ceramic plates use infrared heat, which works from the inside out and is gentler on strands. Ceramic plates also distribute heat evenly so you don't have to work sections over and over again.
Titanium plates: Titanium plates work better for hair that's typically difficult to style (think coarse, curly, or frizzy). The metal is a highly efficient heat conductor and so it heats up faster and the smooth plates create a ton of shine. Titanium is also durable and corrosion-resistant to styling products that can build up and leave a residue.
Though the material of the plates is the most important consideration, some flat irons use a combination of both of these technologies. For instance, a flat iron with titanium plates and a ceramic heater will create powerful but even heat.
Another factor to consider is the size of your flat iron's plates: 1-inch irons are easier to maneuver, especially closer to the scalp and when straightening bangs. Flat irons with 2-inch-wide plates can style large sections of hair quickly, so they may be the best choice if you have long hair.
No matter your hair type, though, a good heat-styling tip is to always use a heat protector like this HSI spray with argan oil. It not only protects your hair from heat damage but acts as a leave-in conditioner, as well.
Read on to find the best BaByliss flat iron for your needs.