These Are The 4 Best BaByliss Blow Dryers You Can Buy On Amazon (& They're All Under $100)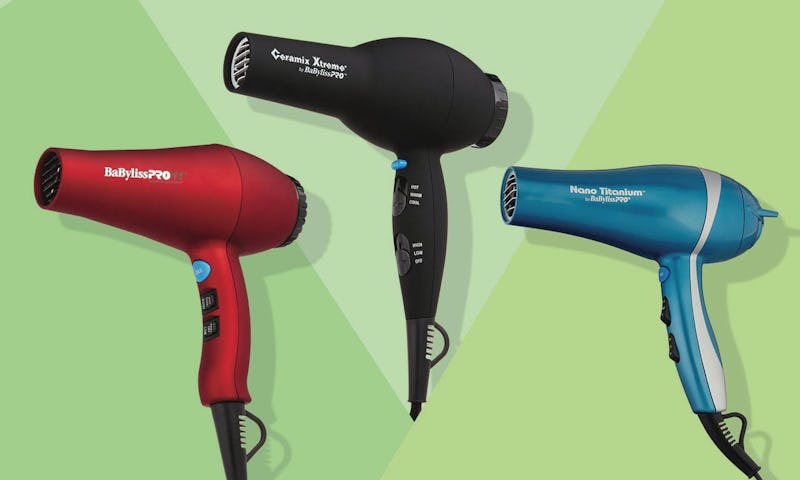 Amazon/Bustle
A good hair blowout at home is not an easy achievement. It takes coordination, patience, and some really great tools. BaByliss Pro has been making and perfecting hair dryers for decades and the best BaByliss hair dryers will work with your hair to give you shiny, bouncy locks, without heat damage. To narrow down the best one for you, start with your hair type:
Fine hair is especially susceptible to heat damage, so you'll want a hair dryer that has infrared technology that's less harsh on strands. Ionic technology will also add shine to fine hair without the need for weighing it down with additional product.
Curls are fragile and lose moisture easily, which is why excess frizz can happen with the wrong heat settings and why curls can lose their definition. The best BaByliss hair dryers for curly hair has ionic technology, which cuts down on drying time by breaking up water molecules and seals up hair cuticles for maximum shape.
Another common hair drying complaint from those with thick manes is how long it takes. To cut down on drying time without exposing your hair to more heat stress, you'll want a hair dryer with either ceramic or titanium technology. Both help distribute heat evenly and release negative ions, which speed up drying time. You'll also want a dryer with a higher wattage, so it can work better, longer.
Now that you know which features will work for your hair, check out our picks for the best BaByliss hair dryers.