Black Nail Polish Is Back — & These Are The 5 Best Formulas To Try Now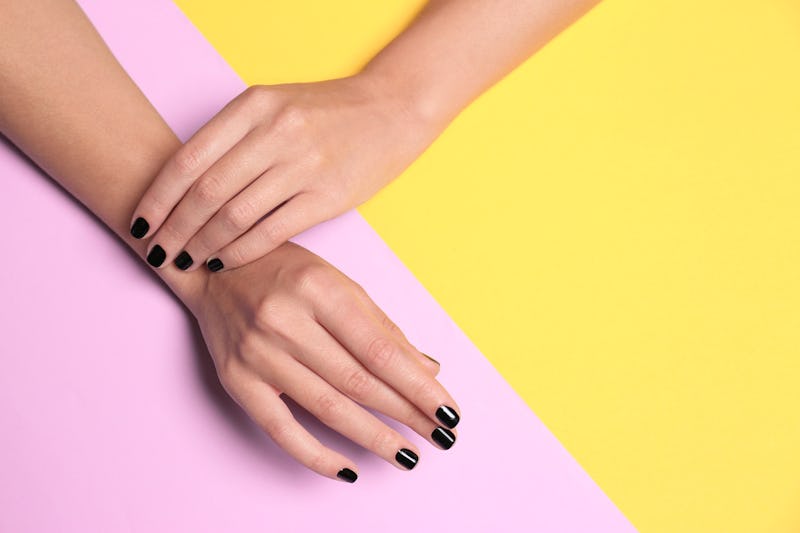 Shutterstock
You know how crucial a little black dress is to your wardrobe. And when it comes to your nail polish collection, I would argue that a little bottle of black polish is just as essential. Similar to your LBD, the best black nail polish goes with everything — whether you're wearing a monochromatic cream look in the winter or you want to offset brighter summer clothes with something more neutral.
But just because you opt for black nail polish doesn't mean it's a one-color-fits-all situation. Depending on your polish tastes, you might prefer something with a high-shine finish that mimics a gel manicure or go full-on goth with a black matte mani. You can even add some sparkle to your look with a metallic black color that has the shimmer built right in, or add your own glittery top coat that lets you choose how bold (and even what color glitter) you want to go with it.
In any case, you'll want to start with a base coat (unless your polish states there's one built in). This is especially important when you're painting with darker colors because the base coat prevents the polish from staining your nails when it's time to remove it.
Ahead, you'll find five of the best black nail polishes available on Amazon — from true black colors with gel-level glossy finishes to slightly shimmery shades that add a bit of glamour to the traditionally edgy hue.