According To A Physical Therapist, A Body Pillow Can Help Relieve Back Pain— Here's How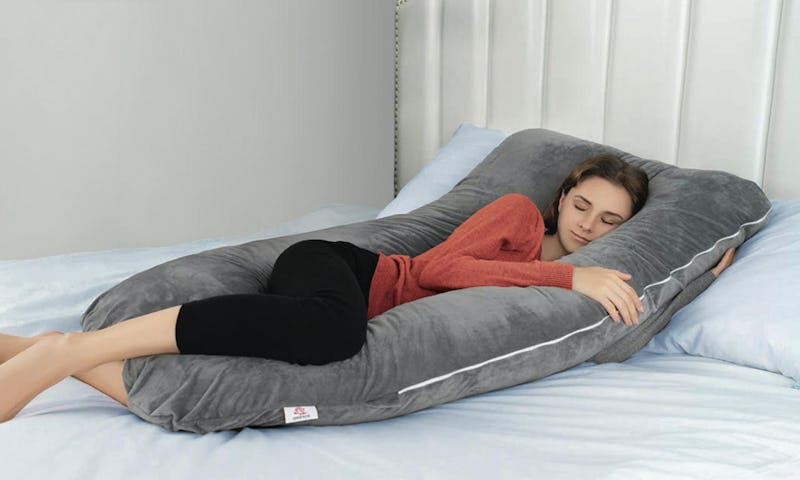 Bustle/Amazon
Back pain can be a nightmare, especially when it keeps you from getting some much needed sleep. Sitting for long periods of time, sleeping on your side, or pregnancy can all cause varying degrees of back pain. A body pillow can help ease your back pain so you wake up feeling well-rested. With so many options out there, choosing one of the best body pillows for back pain can be a challenge in itself.
To get more information, I reached out via email to Dr. Karena Wu, a board-certified clinical specialist in orthopedic physical therapy and owner of ActiveCare Physical Therapy in New York City. When it comes to back pain, a body pillow can help because "it can support the weight of the arm and leg when side lying," she explained. "Without it — and if the arm or leg sits forward from the body— the weight pulls on the torso, which can torque the spine."
She recommends choosing a body pillow with medium firmness so it has "some give so that it supports the limb weight." She also suggests that you make sure you lie more next to it and not completely over it. "Arm or leg can be placed onto top or cradling it but not stretched out too far," she says. Otherwise, she adds, there's still potential to twist the spine even more, thus causing more harm.
When shopping for a body pillow, I found its best to consider its shape first:
U-shaped: These are great for side-sleepers because if you switch sides, you won't have to completely adjust the pillow.
C-shaped: When I was pregnant, this shape worked well because the curved top and elongated midsection were great for supporting my neck, back, and bump.
Straight: If you want to relieve some pressure from your hips and knees, consider a straight body pillow. This style also works well if you have a pillow you already like for your head but want to add an additional cushion for your lower body.
Next, remember that body pillows will likely take up a good portion of your bed, so if you have a smaller bed, be sure to check out the pillow's dimensions first.
With all this in mind, I've rounded up a selection of the best body pillows for back pain to give you a range of options. Read on to find the perfect one for you.