These Carafe-Free Coffee Makers Will Fill Your Cup On-Demand & They're Game-Changers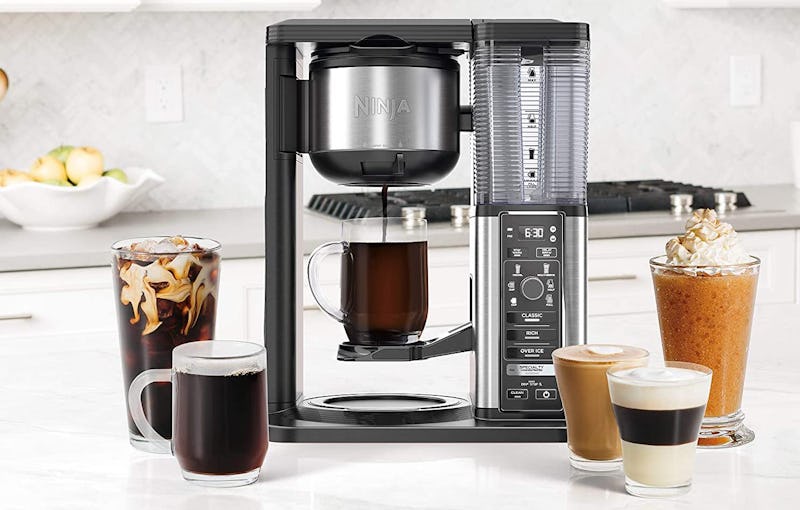 Amazon
There's a lot to love about drip coffee makers — the speed and convenience of which you can make a perfectly brewed cup of joe are among the benefits. The hassle of washing and maintaining a carafe, on the other hand, can be a drawback. Fortunately, the best carafe-free coffee makers enable you to dispense great-tasting java without the need for a traditional carafe.
When shopping for a carafe-free coffee maker, you'll find that there are more than a few styles to choose from, and the right one will largely depend on your own needs. On one side of the spectrum are coffee makers that allow you to brew up to 12 cups all at once. However, these coffee makers store and keep the coffee warm in an internal tank until you ready to dispense it. That makes it more convenient but possibly not quite as fresh-tasting if you tend to be the type who takes their time slowly enjoying one cup at a time.
On the other side are single-serve machines, which either use grinds or K-cup pods to craft your beverage. These are made for literally brewing one cup at a time, which means you'll never have to make more than you plan to drink. Though, keep in mind that as fresh-tasting as they are, one-time-use pods aren't quite as eco-friendly because they create more waste.
Caffeine lovers will also be happy to know, that thanks to innovation in this category, there are now machines that give you the option to use a carafe when you need it.
Keep scrolling for more info on the best carafe-free coffee makers you can buy on Amazon. I've divided them into two categories so you can easily pin point which fits your needs the most.
We only recommend products we love and that we think you will, too. We may receive a portion of sales from products purchased from this article, which was written by our Commerce team.