The 5 Best Cleaners For Hardwood Floors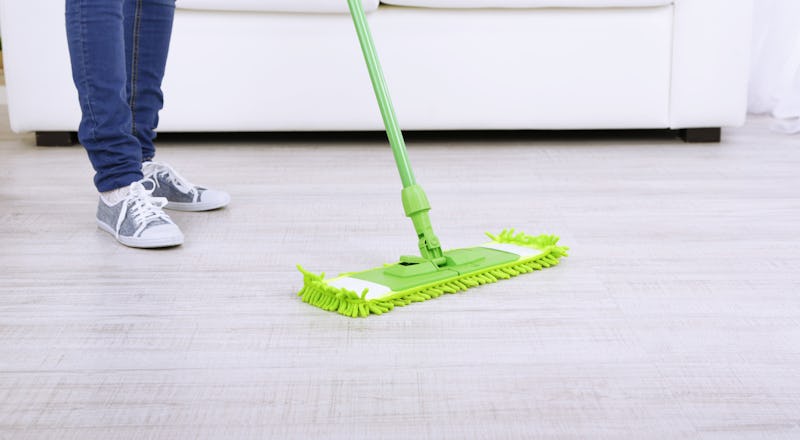 Africa Studio/Fotolia
Wood floors, unlike carpet and rugs, often require little day-to-day cleaning beyond a simple sweep. But occasionally, deeper cleans are called for. The best cleaners for hardwood floors not only keep things sparkling, they extend the life of your floors. But you can't just keep mopping from the kitchen or other tiled rooms to get the job done. Many regular floor cleaners contain ingredients like ammonia or abrasives that can harm wood. Surface cleaners, even ones designed for wood, sometimes aren't optimized for floors either. (Trust me: In college, my roommates and I once made the mistake of spraying wood cleaner for tables and counters on the floor. Since it wasn't designed to be walked on, it dried shiny and slippery.)
The best wood cleaners, however, don't require special equipment or even spending a ton of money. A good cleaner and your favorite mop (and sometimes bucket) is usually all you need. If you're using a bucket, be sure to ring the mop out so it's damp, not dripping. Work in sections and, if it still looks wet when you're done, dry it with a clean towel.
Just one quick note that most cleaners are not appropriate for unfinished floors or floors sealed with wax. Most hardwood floors installed or renovated in recent years are sealed with polyurethane, and you likely already know if you have waxed floors, but if you live in an older home and aren't sure, there's a very easy test you can do to check.
Whichever method you choose or your needs, there's a wood floor cleaner that will give you the sparkling results of your dreams. None of these picks are concentrates, so you don't have to worry about diluting or measuring before jumping right in.