6 Great Pairs Of Compression Socks That Are Actually Stylish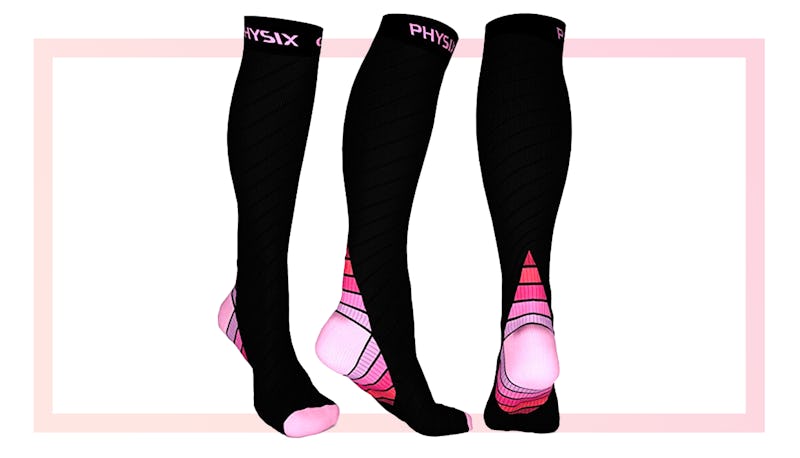 Amazon/Bustle
Socks are often an afterthought in fashion — unless, that is, you have foot or neck pain, or a job that requires you to be on your feet for hours. If any of those scenarios apply to you, owning a pair of stylish compression socks is the best solution possible. And make no mistake: functional socks that are good for your health can look great, too.
Compression socks can prevent blood from pooling in the legs and feet, decrease the risk of blood clots, and relieve inflammation that is the root of so many of our aches and pains.
This list includes socks with graduated compression from the ankle throughout the calves, socks with incredible arch support, and athletic running socks that are made with moisture-wicking fabrics to prevent bacteria and odors from becoming a problem. Maybe you suffer from a foot condition like plantar fasciitis or have intolerable pain in your legs. Perhaps you love traveling but always experience leg swelling on long flights — or you work long hours at a hospital or school. All of these situations call for a quality pair of compression socks that delivers mild to firm compression, depending on your needs.
Compression socks can help your feet and legs feel more relaxed and you'll feel less fatigued at the end of the day, but they're not always the most attractive of garments. If you like to have fun with your socks — think: professional argyle, colorful polka dots, or fun animal prints — we've got you covered.