If You Have Dry Skin, This Is The Type Of Cleanser You Should Be Using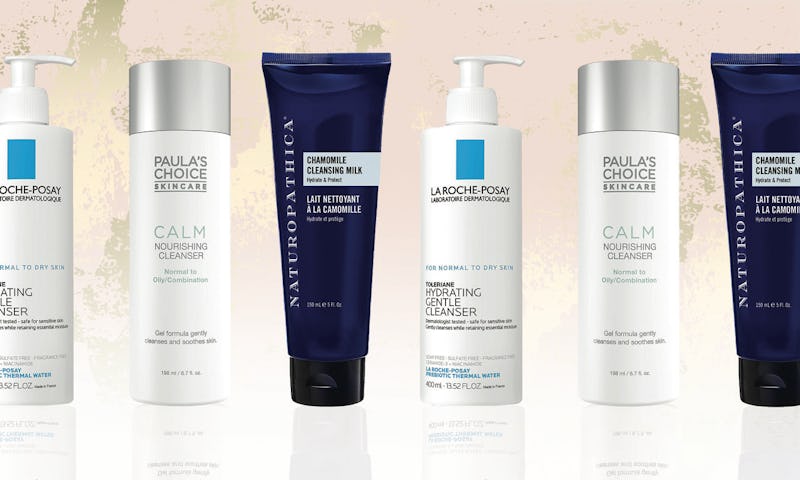 Amazon/Bustle
As far as skin care products go, cream cleansers are a true classic. A standby, a fail-safe, the dermatological equivalent of wrapping yourself in a cashmere blanket... you get the idea. I like cream cleansers; Maybe it's because one of my earliest sense memories is dipping my fingers into my grandmother's pot of Pond's Cold Cream. And still today, every time I use one of the best cream cleansers, my skin and I feel calm, comforted, and generally at peace.
You'll notice that many cream cleansers include the word "soothing" in their titles, because that's what they do best. They're essentially lotions, but spiked with gentle cleaning agents. Typically, they're free of sulfates, a detergent that gives cleansers of other consistencies (like gels and foams) their lather, but which can be irritating and drying for sensitive skin. Almost always, they're suffused with hydrating ingredients that leave your skin moisturized and soft. They are, in short, the most nourishing way to clean your face, which makes them especially ideal for people with sensitive, dry, and reaction-prone skin. But since they help keep your skin's natural oil levels in check, cream cleansers can work perfectly well for people with acne-prone skin, too.
That said, even the best cream cleansers aren't necessarily the most powerful. A cream cleanser alone almost certainly won't be enough to take off your makeup. So if you're using a cream-based cleanser at night (or very early in the morning, no judgment), it's best to first use an oil-based cleanser or micellar water to get rid of surface-level grime. Then the cream can dive in and finish off the process while soothing and moisturizing your skin.
Here are five of the best cream cleansers you can find on Amazon (minus Pond's classic cold cream, which is a given). They're all perfect if soothed, supple skin is your goal, but some address more specific concerns, like hyper-sensitivity and redness, too.