The 5 Best Essential Oils For Deodorant
by Ileana Morales Valentine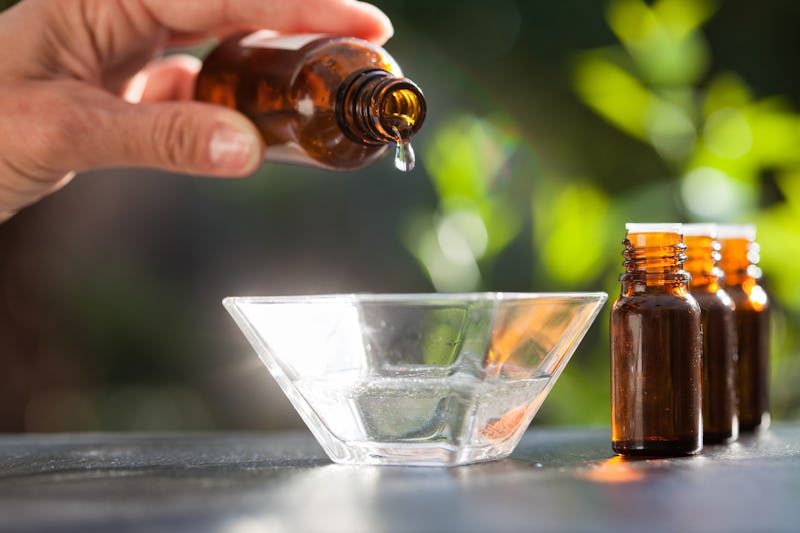 Shutterstock
Though often prized for their scents, the best essential oils for deodorant have beneficial properties beyond aromatherapy to keep you feeling fresh. When making homemade deodorant, look for essential oils that will keep bacteria at bay. Bacteria mixes with sweat and causes body odor, so you'll definitely want to choose an essential oil with antibacterial properties to prevent the development of bacteria in the first place. Luckily, many essential oils boast this benefit.
Essential oils also often have multiple benefits for skin, which may include anti-inflammatory effects to alleviate irritation or properties that can treat hyperpigmentation in underarms. Some essential oils have a stronger or lighter scent, and they can be blended for a fragrance that best suits your own personal preference or skin-care needs.
When using essential oils for making deodorant, you'll want to make sure to buy ones that aren't already diluted with carrier oil — meaning, look for bottles with 100 percent of the oil you want. You can later dilute the pure essential oil yourself with a carrier oil, such as coconut oil. Although essential oils are plant-based, don't assume they can't be irritating to your skin. It's important to choose essential oils that are appropriate for topical use. It's also always a good idea to check with your doctor before adding any essential oil to your routine and to always follow the instructions for use carefully.
The below essential oils are highly-rated on Amazon and each bottle contains 100 percent of the desired essential oil.