5 Face Scrubs You Need To Try If You're Concerned About Blackheads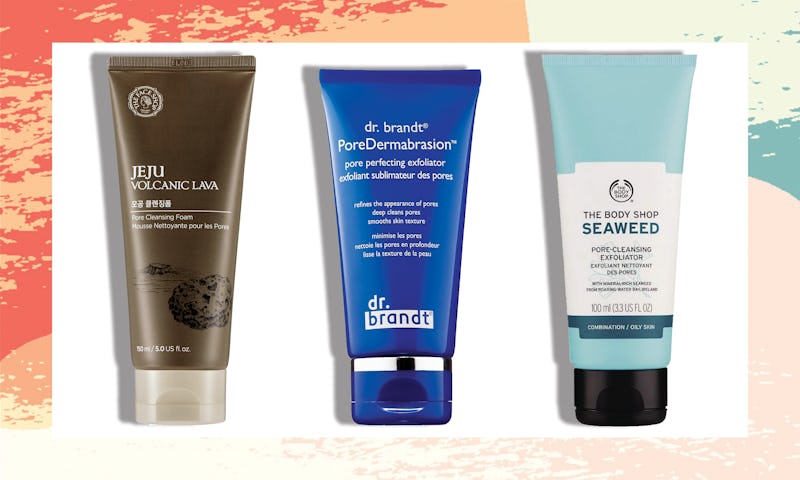 Amazon/Bustle
The most important thing to know about blackheads is that they don't discriminate. Whether your skin is oily and acne-prone or dry and sensitive, pretty much everyone gets them. Unfortunately, aside from physical extractions, blackheads are pretty hard to get rid of. The best thing you can do to prevent new ones from forming is keep your skin clean, which is why regularly exfoliating with one of the best face scrubs for blackheads is a good idea. While a blackhead-fighting face scrub might not make an immediate visible difference, they will help clear out your clogged pores over time — and they'll definitely help prevent new blackheads from popping up.
There are a few other measures you can take to help prevent blackheads from forming. Try and avoid oil-based skin care products, as they'll only wind up clogging your pores further. Instead, invest in a water-based cream or lotion (gel moisturizers are a good example of this). Perhaps the most important thing you can do is incorporate a chemical exfoliant into your routine — try using an acid-based toner after cleansing. You can also use a cream that contains salicylic acid, which deep cleans pores of blackhead-causing dead skin and sebum, or retinol, which encourages skin cell turnover. Retinol typically only comes in cream or serum form, so when shopping for a scrub or cleanser, a formula with salicylic acid will be your best bet.
A few more tips on how to get the most out of your blackhead-fighting face scrub. First, please don't rub your skin too aggressively, as this can only cause further irritation. Also, you probably don't need to be cleansing your face with a scrub every day. In fact, most face scrubs are only formulated to be used two to three times a week.
Now that you know how to properly use your scrub — and how to fight off blackheads in the long run — it's time to get shopping. Below, find five of the best face scrubs for unclogging those pesky pores.