How To Exfoliate Your Feet (& The Products To Use) — Just In Time For Sandal Season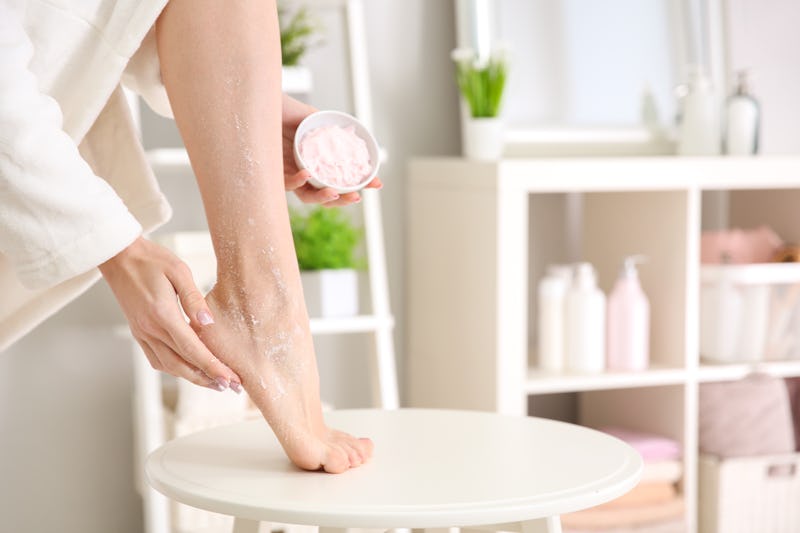 Shutterstock
If you're reading this article, you've likely already realized that applying lotion isn't the most effective way to achieve smooth, soft feet. Sure, moisturizing is important, but to really get the job done, you're going to need one of the best foot exfoliators. These types of products, which come in many different forms, will work either chemically or manually — things like foot peels and exfoliating creams will fall into the chemical exfoliant category, while tools (think foot files and pumice stones) are manual exfoliants.
According to spokesperson for and member of the American Podiatric Medical Association (APMA), Dr. Lauren Wurster — with whom Bustle spoke for this article — our feet and heels are especially prone to dryness because of how the skin layers are structured. Everything from too-hot bath water and cold temps to dry air and harsh chemicals found in soaps, body washes, and swimming pools can dry out the skin on our feet, as can wearing loose shoes (like flip flops and open-backed sandals), shoes without socks, or wearing no shoes at all, Dr. Wurster says. But with the six foot exfoliants ahead (and a great, moisturizing foot cream), you can achieve smooth, soft heels and feet in no time.
We only recommend products we love and that we think you will, too. We may receive a portion of sales from products purchased from this article, which was written by our Commerce team.