A Derm's Guide To Mineral Sunscreens — Plus The Best Ones You Can Buy On Amazon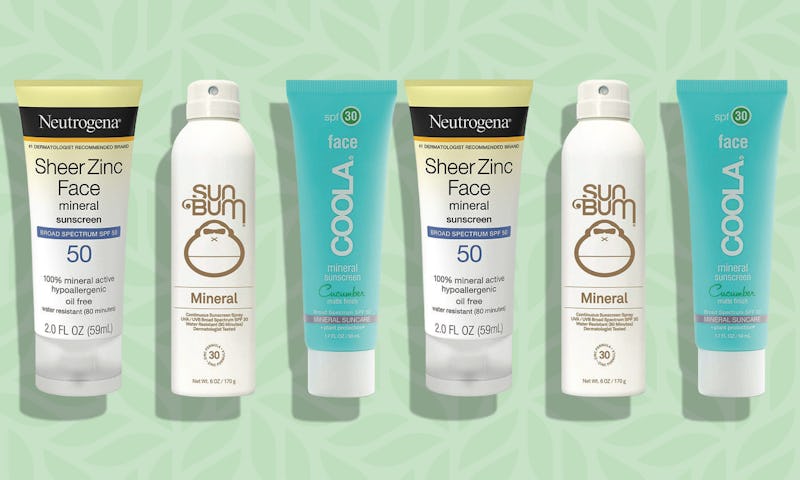 Bustle/Amazon
This is not groundbreaking advice, but it bears repeating: You should be wearing face sunscreen every day (yes, even if you're staying inside!). A more nuanced consideration is whether that sunscreen should be of the chemical or mineral variety. To learn more about the best mineral sunscreens — the less common option on the market, but, in certain cases, the better one — I spoke to Dr. Loretta Ciraldo, a Miami-based, board-certified dermatologist and founder of Dr. Loretta skin care, and Dr. Orit Markowitz, Director of Pigmented Lesions and Skin Cancer at Mount Sinai Hospital in New York City.
But first, let's define our terms. "Mineral sunscreens contain zinc oxide, either alone or in combination with titanium dioxide, as the active ingredient," explains Dr. Ciraldo to Bustle. "These ingredients reflect ultraviolet light so it literally bounces off the skin." (Dr. Markowitz compares this effect to a mirror that staves off UV light before it can penetrate your skin.) On the other hand, the active ingredients in chemical sunscreens "absorb ultraviolet rays into their molecular structure," says Dr. Ciraldo.
So: Why choose mineral sunscreens over chemical sunscreens? Few reasons. First, and maybe most importantly, Dr. Markowitz says that chemical sunscreens can absorb into your bloodstream, which mineral sunscreens won't do. Also, mineral sunscreens don't contain some common ingredients found in chemical sunscreens that are harmful to the environment, like oxybenzone and octinoxate.
Beyond that, where you come down on the mineral vs. chemical debate is a personal choice. Dr. Ciraldo says that zinc can calm redness, so mineral face sunscreens can be useful for people who experience irritation or have a naturally ruddy complexion. However, she also warns that the zinc and titanium can leave a white cast on your skin, so people with darker skin tones might have a tough time finding a mineral sunscreen that works for them. (But they're certainly not impossible to find, and most of the sunscreens on this list blend into a translucent finish.) Along those lines, Dr. Markowitz pointed out that mineral sunscreens "don't always have the smoothest application," so they might pill or clump under makeup. But, on the plus side, she also said that they're "more resistant to rubbing, so they require less frequent application." A boon for anyone who passionately dislikes reapplying sunscreen, which I assume is most of us.
Obviously, the most important thing is to choose a sunscreen you're actually going to wear every day — and if you decide that sunscreen is of the mineral persuasion, I've got you covered. Scroll on for five of the best mineral sunscreens you can get on Amazon right now.
Bustle may receive a portion of sales from products purchased from this article, which was created independently of Bustle's editorial and sales departments.