These Cloud-Like Mattress Pads Are The Key To Instant Comfort — & They're All Under $100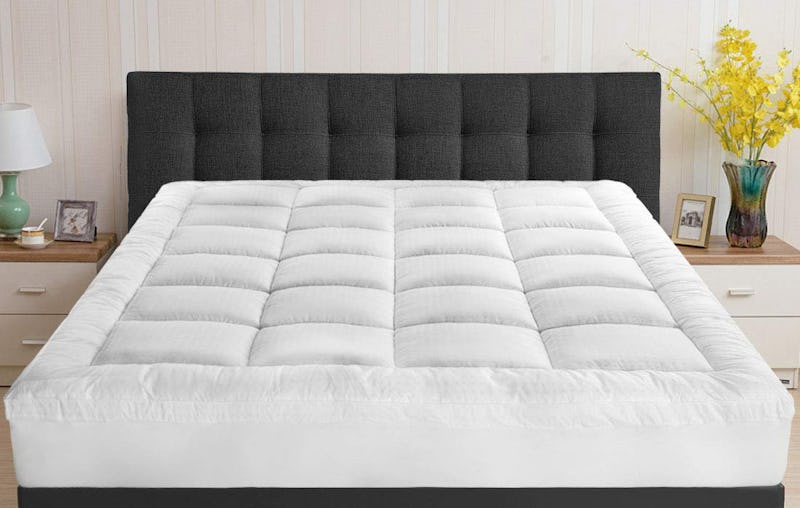 Amazon
If your mattress needs an upgrade, the best pillow-top mattress pads may be just the thing to make your night extra cozy and comfortable. A pillow-top mattress pad is just as the name sounds: It's similar to a pillow in that it offers a softer surface for sleeping
The main purpose of a pillow top mattress pad is to add a little extra cushion to a mattress. They're a popular pick for those with firm mattresses who'd prefer something a little softer that's still supportive. A mattress topper, on the other hand, is thicker and offers more support so it's a good choice for older mattresses, and a mattress protector is designed to protect the mattress from spills and allergies but not to provide additional comfort.
There are several things to keep in mind when choosing a mattress pad. Because they fit over a mattress, you'll want to keep in mind how deep the pockets are. Most mattresses range from about 9 to 16 inches, but some can be up to 18 or even 20 inches so keep that in mind when shopping
If you have allergies or sensitive skin, it's recommended to purchase one that is 100% hypoallergenic. While some mattress pads claim to be "healthy," hypoallergenic indicates that the mattress pad is resistant to common allergens like dust mites. And if you have small children or pets, a waterproof mattress pad may be a good choice. Look for ones that are 100% waterproof with some kind of protective coating such as TPU. And for those who sleep hot, some mattress pads have cooling technology which is great for hot nights or if you often wake up feeling sweaty.
With all those considerations in mind, below are the best pillow-top mattress pads to make every night more comfortable.