5 Pro-Quality Shampoos You Can Buy On Amazon For Salon-Worthy Hair At Home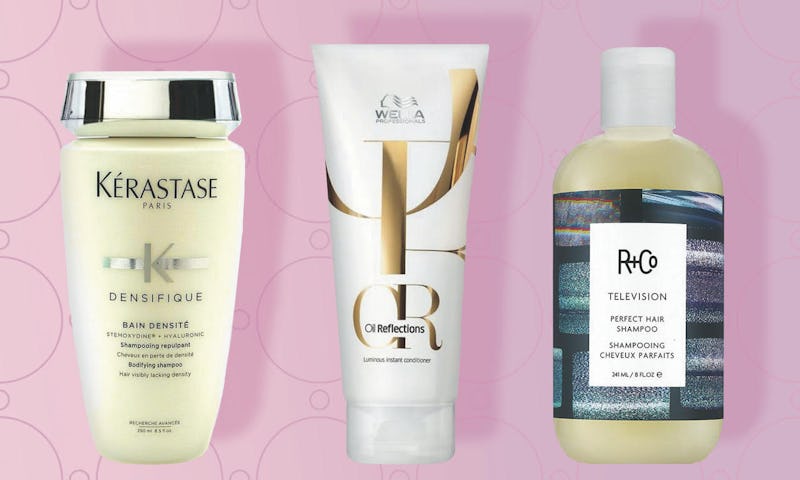 Bustle/Amazon
Ever wonder why your hair looks so amazing after a visit to the salon and instantly seems to fall flat (sometimes quite literally) after your next wash? While a huge part of that perfect hair day is thanks to skilled styling, you should never underestimate the power of a good shampoo and conditioner — so if you're looking to get a salon-quality wash at home, it's time to invest in the best professional shampoos and conditioners.
Before shelling out on a pro-quality shampoo and conditioner, you want to make sure to choose a formula that will work for your specific hair type. The fairly straightforward task includes opting for a sulfate-free formula if you have color-treated hair. (And if you have hair that's been dyed blonde or platinum, you'll want to be extra choosey and go for a shampoo and conditioner that have purple pigments to help neutralize brassy undertones.) If it's more moisture you're after, look for a shampoo that includes multiple nourishing ingredients like argan oil, moringa oil, or camellia seed oil. Not only do these omega fatty acid-rich oils work to soften hair and eliminate frizz, but they can also help prevent future damage.
For more texture-focused concerns, it's especially helpful to pay attention to the ingredients list. Curly hair requires heavier moisturizing ingredients like shea butter and coconut oil to help smooth the hair follicle and define curls. On the other hand, these heavy hydrators can weigh down fine hair, making it look stringy and greasy. While fine hair still needs moisture, look for more lightweight options such as hyaluronic acid that aren't at the top of the ingredients list. Thin hair types will also want to choose a formula with thickening or plumping technologies, which will have the obvious benefit of added volume, but can also help you get an extra day out of your wash by preventing your hair from looking flat and greasy so quickly after shampooing.
Ahead, you'll find five of the best professional shampoos and conditioners that are worth the splurge.