These Roasting Pans For Vegetables Bake & Brown To Perfection
by Ileana Morales Valentine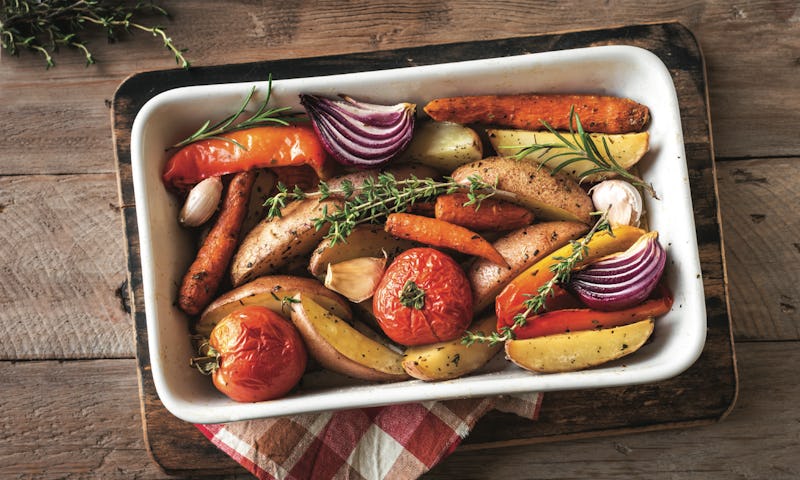 Shutterstock
A roasting pan can be an investment, both in terms of cost and space in your kitchen, so it's helpful to find one worth its weight. Roasting pans are kitchen workhorses that are useful for far more than just roasting a turkey, and the best roasting pan for vegetables can bake up everything from sweet potatoes to Brussel sprouts perfectly.
Many cooks use a thin baking sheet to roast vegetables, but a more heavy-duty roasting pan is less likely to warp under the high heat that makes roasted vegetables delicious (think: 425 degrees Fahrenheit).
Here are some details to keep in mind when shopping for a veggie-friendly roasting pan.
Materials
Pans come in a variety of materials, each with some pros and cons.
Size & Accessories
A 9-by-13-inch roasting pan is a good all-purpose size. Look for a roasting pan with walls about 2-inches high so it's easier to toss vegetables for even roasting. A pan with handles will make for easy tossing of vegetables and then later easy serving, and a lid traps heat and prevents veggies from overbrowning.
Since this list focuses on roasting pans for vegetables, most of my picks forego traditional U-shaped or V-shaped racks intended for large cuts of meat. Flat racks with smaller openings between slats are more useful for vegetables because they keep veggies from falling through.
Now, let's get you cooking. Below are the best roasting pans for vegetables, each one comes highly rated on Amazon.
We only recommend products we love and that we think you will, too. We may receive a portion of sales from products purchased from this article, which was written by our Commerce team.