Behold, These Are The Storage Solutions To Keep Your Shoe Collection Organized AF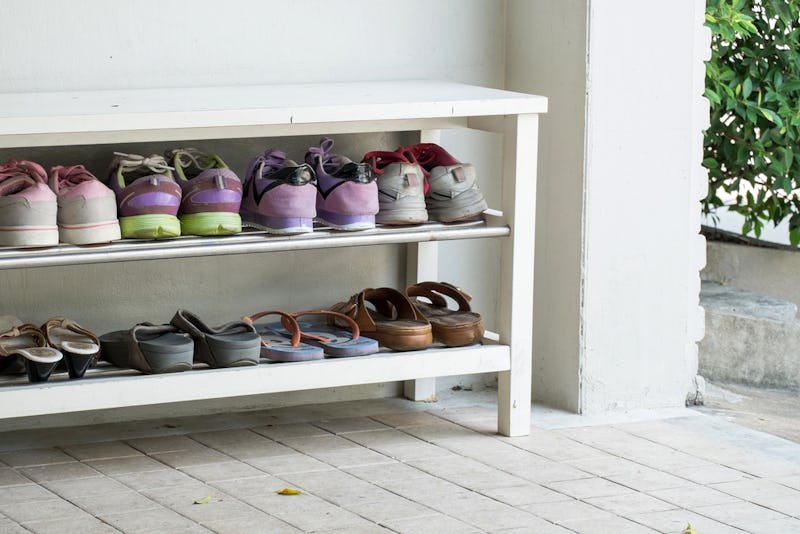 Shutterstock/ThaiPrayBoy
Without useful assistance from the best shoe storage, it's easy for a shoe collection to start looking like... well, a mess. These organizers come in a wide range of styles, so the possibilities are really endless and customizable.
Though the shoe storage market is packed with clever ideas and DIY hacks, if you're looking to purchase a ready-made option, there are a few different options to consider depending on the size of your collection and your space. Large shoe collections might require multiple organizers; whereas, a few pairs can easily fit inside a single unit. As with anything, the choice comes down to your specific storage needs. Luckily, in terms of price, they're all relatively affordable.
Common Types Of Shoe Storage
Shoe racks. These are tiered racks that make great entryway pieces, especially if you prefer shoes off in your home.
Under-bed storage. These units often zip closed and have compartments large enough to stow pairs.
Over-the-door organizers. These organizers hang over the door and have slots for individual shoes.
Shoe boxes. These are often clear and plastic and big enough for a single pair of shoes.
Travel bags. These small bags make it so your dirty shoes don't have to touch your clean clothes and other packed items.
Read on to shop Amazon's best offerings for each category. Once you've found your favorite — or should I say favorites? — keep the organizing momentum going and check out the best clothes storage racks.