Want To Brew Better Tea Or Pour Over Coffee? These Kettles Offer Temperature Control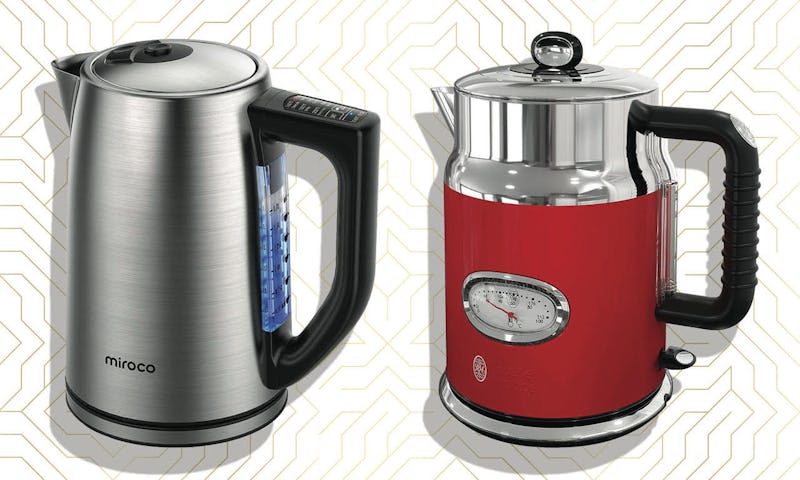 Bustle / Amazon
The right water temperature can make all the difference in your hot drinks. In fact, the ideal temperature for brewing coffee is right around 200 degrees Fahrenheit, and the perfect temperature for tea varies from 160 to 212 depending on the type. Whatever your preferred drink, the best tea kettles with thermometers will help you get the perfect brew every time.
But not all kettles are created equal, so it's best to consider a few things first in order to find the right one for your needs.
Electric Versus Stovetop
Stovetop: This traditional kettle will naturally require a stove — which means it's not going to be able to work in any room in your house — but it'll have your back when the power is out (if you have a gas stove, that is). The big caveat: Stovetop kettles generally take about eight to nine minutes to boil 4 cups of water, while electric kettles typically can boil that same water in half the time, or less.
Electric: This kind of kettle definitely wins on speed, and since it can function anywhere there's a working outlet, it also offers portability. Some electric tea kettles also have a special setting to keep your water warm for longer, and safety features like "auto shutoff" and "boil dry protection." That said, they take up counter space and won't work if you're in the throes of a power outage.
Do You Need A Gooseneck?
Gooseneck tea kettles tend to be the best choice for pour over coffee, since the narrow spout makes it easy to pour slowly and precisely. However, for all other drinks, there's no real reason to use one, unless you simply prefer the aesthetics. If you decide a gooseneck is right for you, look for a kettle featuring a comfortable, easy-to-grip handle, as well as the right capacity for your coffee drinking consumption.
With that in mind, check out the best tea kettles with thermometers on Amazon. All of them are highly rated, and some even come backed by thousands of glowing reviews.
We only recommend products we love and that we think you will, too. We may receive a portion of sales from products purchased from this article, which was written by our Commerce team.