This Is The Best Type Of Blow Dryer Money Can Buy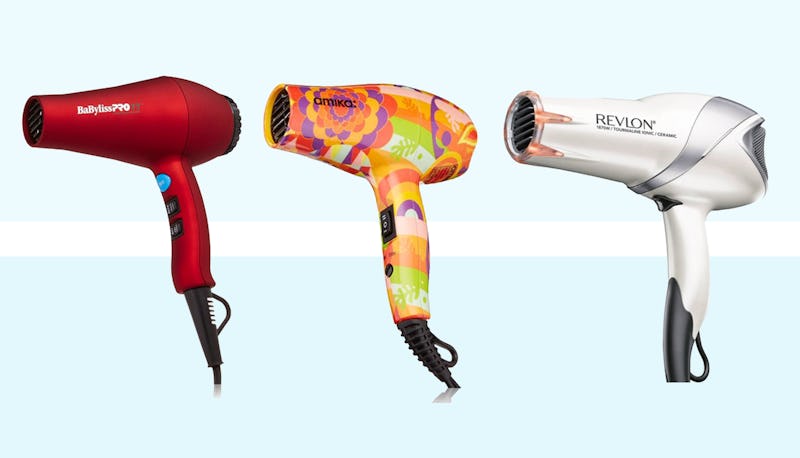 Amazon/Bustle
Handheld hair dryers have come a long way since the '90s, when advancements in plastics and technology made them readily available, practical, and affordable. Today, a quick Amazon search for 'hair dryer' yields over 2,000 results! Still, the best tourmaline hair dryers stand out because, in general, they represent the latest and greatest in hair dryer technology, delivering fast, frizz-free results.
Tourmaline — a semiprecious gemstone — has become more and more popular in flat irons, curling irons, and hair dryers because of its natural ionic and infrared properties. It's especially beneficial in a hair dryer because the negative ions it emits cause the water molecules in your hair to divide and evaporate faster, which speeds up drying time. Also, because it combines negative ions and infrared heat, it actually seals the hair cuticle and locks in moisture for shinier results and reduced frizz. One of the best things about the power of tourmaline in a hair dryer is that you can use a lower temperature to dry your hair. A lower heat setting (and switching to a cool shot near the end of your blow dry) lessens the chance of heat damage and allows you to preserve the definition of your natural waves or curls.
If the benefits tourmaline are attractive to you (how could they not be?) but you still feel overwhelmed by the sheer volume of options out there, you can rely on this list below. With any one of these five tourmaline hair dryers, you'll be on your way to a healthy, shiny, frizz-free blowout in no time.