This $18 Vegetable Dicer Has 10,000+ Glowing Amazon Reviews (Plus 4 More Sharp Options)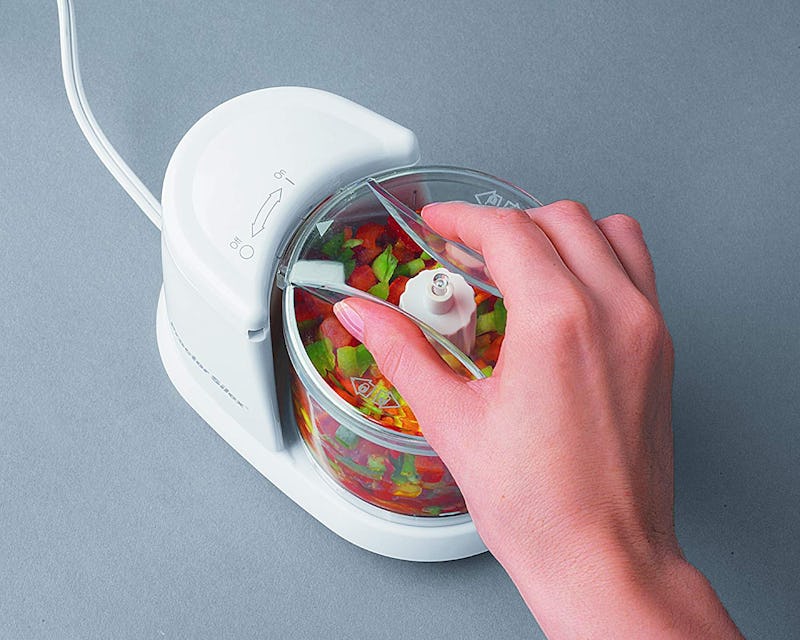 Amazon
Cooking at home is great, but having enough time to do all of the necessary chopping and dicing of your ingredients can be a challenge. And, who can forget those tears that often come from direct exposure to julienned onions? The solution? A kitchen gadget that can greatly shorten the time from prep to plate: the vegetable dicer. The best vegetable dicers are ones that can do all of the hard work for you, take up minimal space, and are easy to clean.
When shopping for a vegetable dicer, there are two types to choose from: electric or manual. Electric devices tend to offer more versatility and less effort. Some go beyond basic dicing and can puree and shred with the touch of a button. However, you'll need to be able to position these near an outlet, which means you may have less freedom on where your prep work takes place.
Manual dicers are more simplistic in their design, so they may require a little more elbow grease on your part to operate — they work with the press down of a blade, the pull of a rope, or the crank of an arm. While the lack of motor components means that some are limited to just chopping and dicing, there is an added benefit that all parts are usually dishwasher safe.
No matter which style you choose, safety will be an important factor when you operate a vegetable chopper because the blades can be sharp. Some models come with blades encased in protective frames and others should be handled with care when removing them from the plastic piece that locks them in place into the bowl.
I've compiled a list of the best vegetable dicers on Amazon below. All of them are made from BPA-free materials and will help cut your food prep time in half.