Get Your Glow On With These 5 Skin-Protecting Vitamin C Creams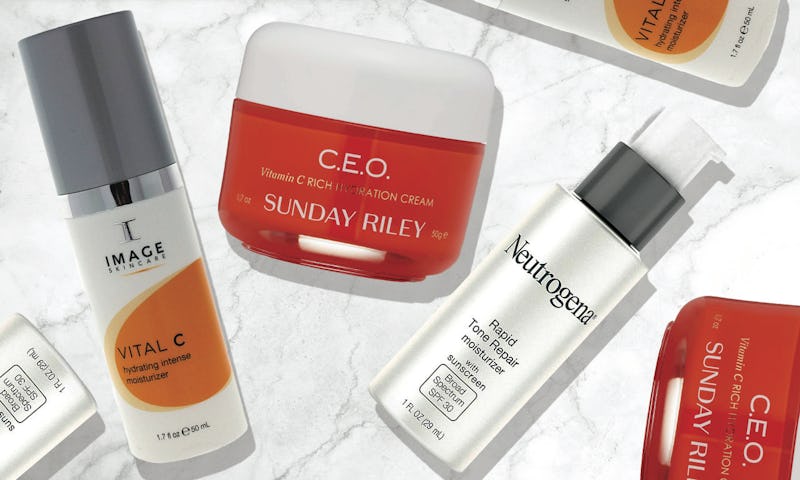 Bustle/Amazon
Vitamin C: Not just for treating scurvy anymore. "Vitamin C is essential for good skin health," NYC-based dermatologist Dr. Kenneth Howe tells Bustle. "It's the most abundant and important antioxidant in our skin." As an antioxidant, vitamin C protects your skin from environmental aggressors like the sun, pollution, and smoke; and, according to Dr. Howe, an overabundance of those free radicals can result in collagen depletion, hyperpigmentation, and even skin cancer. It follows, then, that infusing your skin with vitamin C can result in a glowier, clearer complexion, so you'll want to get your topical vitamin C wherever you can. The best vitamin C creams are a good place to start.
Vitamin C is especially valuable for providing a deeper layer of sun protection that SPF can't quite reach. "Even the most diligent sunscreen applier will still have some UV rays penetrate the skin — sunscreens are screens, after all; they block the transmission of only a given percentage of incident UV radiation," Dr. Howe says. "Some of it still gets through. And that's where antioxidants like vitamin C come in. Antioxidants snuff out the damage that UV rays cause by quenching free radicals present in the skin." That said, this is not a reason to skimp on the face sunscreen you're already wearing every day (right?).
Dr. Howe recommends applying vitamin C products in the morning; that way, you're providing your skin with a fresh supply of the antioxidant's protective powers. And because they're typically used during the day, lots of vitamin C creams include other ingredients that brighten, smooth, hydrate, and otherwise benefit your skin.
Ahead, you'll find five of the best vitamin C creams for all manner of budgets and skin types. Put them on in the morning for luminous skin all day long, then drink a glass of orange juice so your teeth don't fall out.
We only recommend products we love and that we think you will, too. We may receive a portion of sales from products purchased from this article, which was written by our Commerce team.