These Are The Best Aqua Socks For All Your Water-Related Needs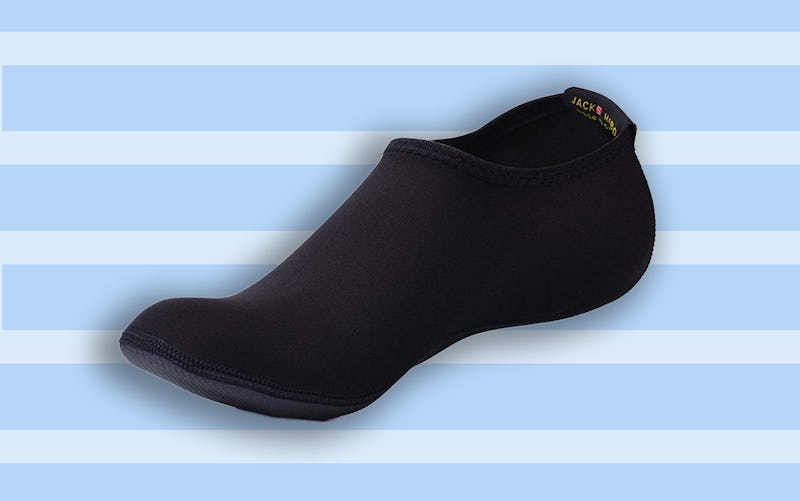 Bustle/Amazon
Aqua socks are the best things ever — they provide warmth in the water, protect your feet from rocks or hot sand, and feel super comfy on your feet. That said, if you're going to make the investment, you want to make sure you have the best water socks you can find.
So what elements go into a good pair of water socks? The first thing to think about is breathability. There's no faster way to get that "pruned and shriveled toes" look than by wearing a pair of socks that don't offer any ventilation.
The next thing to consider is comfort and fit. If you've ever spent ten minutes trying to wiggle your foot into a thick slab of neoprene, you know what a hassle it can be. You want to make sure you get a pair of water socks that have smooth, easy-glide necks and are made of a material that lets you to slip them on with ease.
Quick-drying material is another factor to keep in mind. You don't want fabric that gets waterlogged easily, nor have to spend the whole car ride home smelling a damp, stinky mess in your back seat.
Also think about what type of activity you'll be doing. Will you only be in the water, or will land play a factor, too? If you're going to be walking or hiking, you'll want enough of a sole to protect your feet. And how about traction? Will there be slippery gravel in the water, or rocks covered in moss? If that's the case, your aqua sock should provide plenty of grip as well.
Other considerations include cost (how much do you want to spend?), size and color (you won't wear it if you hate how it looks), and water temperature (warm water requires less insulation whereas cold water demands extra neoprene). To help you out, I've put together a list of the best aqua socks for every activity and function.