These Whiskey Glasses Can Seriously Make Your Drink Taste Better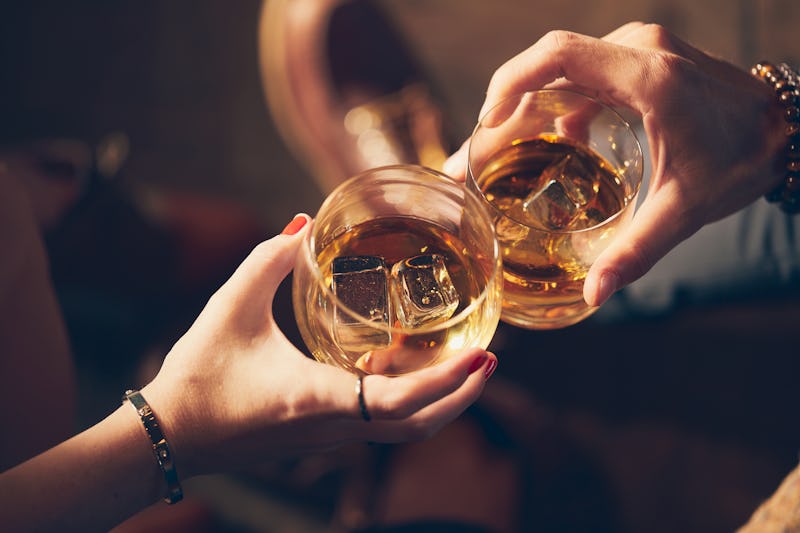 agbstock / Shutterstock
When whiskey is poured into a glass, the vapors in the alcohol become more concentrated, giving you a unique combination of aromas and flavors. The best whiskey glasses are designed to vary the way you experience the scent of your drink, and you'll want to choose different shapes of glassware depending on how you like to enjoy your whiskey. For example, you'll want a glass that minimizes the concentration of alcoholic vapors if you plan to drink it quickly, or a glass that nicely captures these fragrances if you plan to savor it.
The most common ways to serve whiskey are in a shot glass, rocks glass, or nosing glass. A shot glass is a small 1- to 1.5-ounce glass that's ideal for taking quick shots of whiskey, as it makes the alcohol smell and taste less overpowering. Rock glasses, aka tumblers, are much larger, ranging from 4 to 10 ounces in size. The depth of these glasses holds the vapors longer, giving you a stronger taste and aroma. They're used for whiskey on the rocks and to serve different types of whiskey-based cocktails. Nosing glasses are especially designed to enhance the flavor and scent of whiskey, and Glencairn glasses are a particularly popular type of nosing glass with a thicker rounded tulip shape and 6-ounce capacity. But whiskey enthusiasts who know the power of a good glass are always seeking to improve on perfection, so there are glasses that fall into their own category, designed to aerate drinks and further improve on flavor.
Scroll on for my roundup of the best whiskey glasses to use to make your next drink more enjoyable, whether you're serving drinks at a party or just savoring some whiskey alone.
We only recommend products we love and that we think you will, too. We may receive a portion of sales from products purchased from this article, which was written by our Commerce team.