Deepen Your At-Home Stretches & Yoga Sessions With This Quality $8 Yoga Strap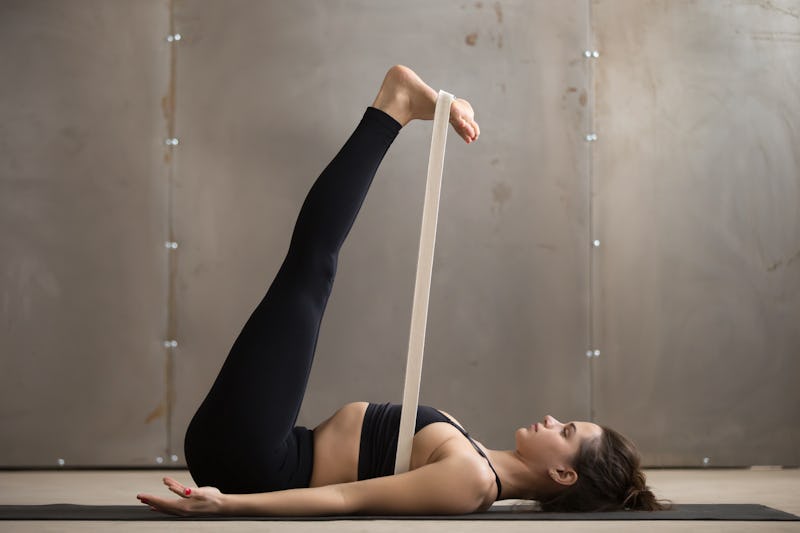 Shutterstock
Even if you aren't a gravity-defying yogi, the best yoga straps can still be remarkably useful wellness tools for stretching tired muscles after a workout, opening up your shoulders after a long day at work or class, and even supplementing physical therapy with moves at home. And for those who practically sleep on their favorite yoga mat, a yoga strap is indispensable for modifying tricky poses or safely going deeper into them. Having the right one for the job can measurably improve your practice.
Surprisingly, there are a number of factors to consider for this simple product. Both the length and material of your yoga strap will play a role in how well it works for you.
Yoga straps can be six-, eight-, or ten-feet long. Six feet seems to be the most popular option, especially among beginners: it's long enough to be versatile but not unwieldy. An eight-foot yoga strap is ideal for taller people — especially if you use it to modify yoga poses that require stretching your full wingspan. More advanced (or more adventurous) yogis might prefer the extra-long ten-foot version for cinching into complicated poses.
Most yoga straps are made of cotton or nylon. Cotton is ideal because it's soft and provides textured grip — and it's also the least likely material to give you rope burn if you fall out of a pose. Nylon, on the other hand, is also popular because it's super durable; plus, it also doesn't absorb water like cotton can, so it might be a smart choice if you plan to do a lot of hot yoga. Whichever material you opt for, quality metal D-rings will help the strap feel more secure.
We only recommend products we love and that we think you will, too. We may receive a portion of sales from products purchased from this article, which was written by our Commerce team.