These Are The Best Drugstore Body Lotions For Dry Skin, Eczema, Bacne, & More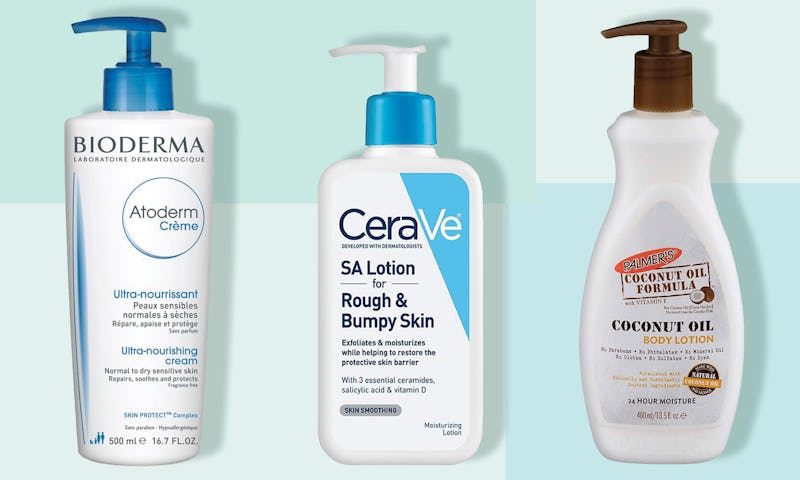 Bustle/Amazon
There comes a time when you figure out the beauty products worth splurging out on — active ingredient-rich serums that do heavy work for your skin; foundation that doesn't cake up; lipsticks that won't fade by mid-day— and the products on which to save. Case in point: body lotion. Because its main goal is pretty simple — to keep your skin moisturized — you don't have to spend a ton of money to find a formula that works. In fact, since most of the best drugstore body lotions pay more attention to skin-repairing formulas (and less to to fancy packaging and fragrances), they're often even better than the ones you can buy from prestige beauty brands.
Depending on your skin type (no, the concept doesn't only apply to your face), the best body lotion for you will vary. If you have dry or dry-ish skin, you're in luck: just about any formula will do (but keep an eye out for hydrating ingredients like hyaluronic acid, humectants like glycerin, lipids like ceramides, and moisturizers like shea or cocoa butter). But if you have more targeted skin concerns, like body acne or eczema, you have to be a bit more careful.
To alleviate the symptoms of eczema (like flaky patches and itching) and keep future flare-ups at bay, look for a gentle formula that contains skin-soothing ingredients. For body acne or bumpy skin, whether it's due to keratosis pilaris or ingrown hairs, invest in a body lotion that contains exfoliating ingredients, like salicylic acid. Ahead, find six of the very best drugstore body lotions for all of these concerns and more.