6 Fragrance-Free Lotions For People With Sensitive Skin — Or Who Just Hate Scent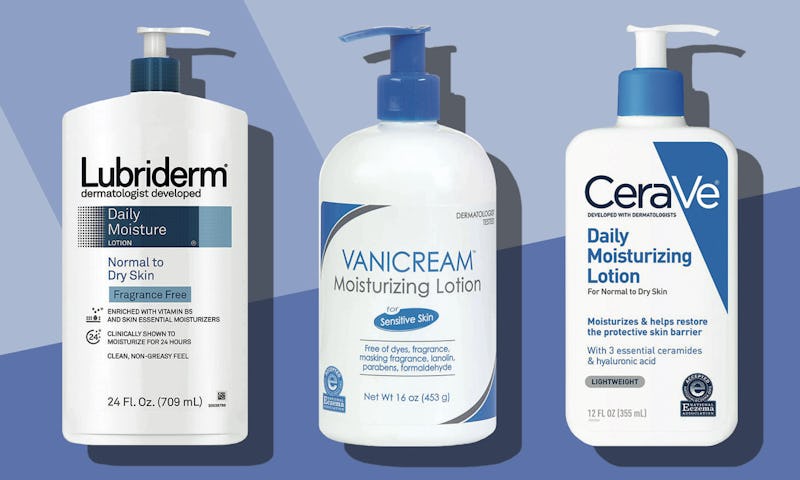 Bustle/Amazon
It's easier than ever to find fragrance-free skin care products because beauty brands are increasingly aware of, and catering to, customers seeking out such formulas. Body lotions and face moisturizers are among the most in-demand when it comes to these types of products, so to help you on your search, you'll find an expertly curated guide to the best fragrance-free lotions just ahead.
But first, some key lotion-applying tips — because believe it or not, there is a right (or at least, more effective) way to moisturize your skin. As board-certified dermatologist Rebecca Baxt, who prefers fragrance-free products herself, tells Bustle, you should apply lotion right after showering or taking a bath, so as to trap all the remaining moisture in your skin. Use moisturizer daily. "It's all about staying ahead to keep your skin barrier protected, before it cracks," Dr. Baxt advises. "It's quite important to moisturize. Our skin protects us from all these things that live on the surface of our skin, and when the skin breaks up, some of those things can enter and those can cause infections."
For hands that are dry from frequent hand-washing, moisturize right after each and every wash. "Every time you're washing, you're stripping oils out of your skin," Dr. Baxt says. The vast majority of people get dry on the backs of their hands, but since our palms are much thicker and therefore better protected, those tend not to need as much lotion. Dr. Baxt says it's okay to apply moisturizer only on the backs of our hands and then rub them together to spread the lotion around, which is a particularly useful practice when you're about to handle something and don't want to your fingers feeling greasy.
Below are six high-quality, fragrance-free lotions for bodies, faces, and hands that provide plenty of moisture without any added scent. Scroll on to shop them now.
We only recommend products we love and that we think you will, too. We may receive a portion of sales from products purchased from this article, which was written by our Commerce team.