Whether You're A Beer Lover Or A Booch Head, You Need One Of These Sleek Growlers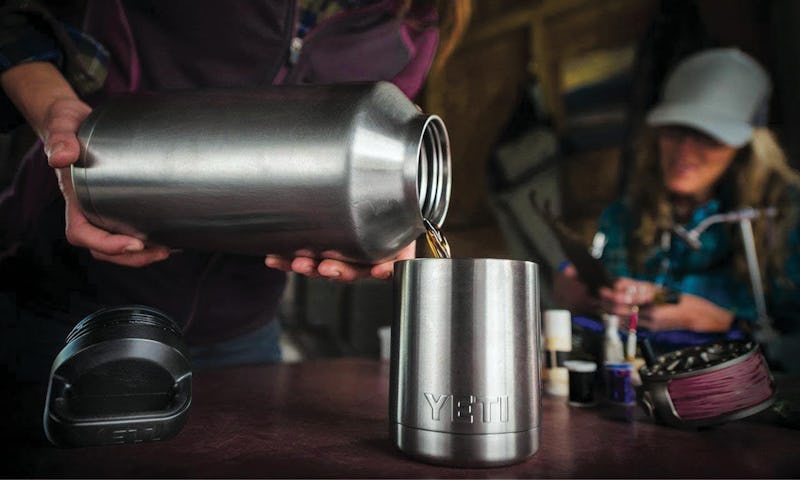 Amazon / Bustle
Whether you're a craft beer enthusiast or kombucha lover, the best growlers let you fill up on your preferred drink and enjoy that fresh-from-the-tap taste no matter where you are. Not only are growlers eco- and budget-conscious, they're also an enjoyable way to sample small batches or exclusives and share them with friends.
Since there are many growler options to choose from, here are some helpful things to consider before you buy.
Material: Opt for durable stainless steel and make sure it's double-walled, vacuum insulated. This means that the two walls of the growler have no air between them, and therefore "no heat or cold can transfer from the interior wall to the exterior wall," according to Homebrew Academy. The end result is that your beverage stays at your desired temperature for a long time — 24+ hours or more in the case of some products below.
Ease of Handling: A slippery growler is not your friend so look for features like powder coating to prevent bottle sweat, a handle for portability and pour-ability, or even a carrying case for hassle-free toting.
Ease of Cleaning: There's nothing barkeeps hate more than having to fill up a foul-smelling growler. If you're prone to putting off doing the dishes, look for a vessel that's dishwasher-safe or one that has a wide mouth for easy hand-washing.
Lid Type: Whether you choose a screw top or a flip top is really a matter of personal preference since quality versions of each will maintain carbonation. Look for poly-seal screw tops or flip tops with a wire cage or pressure seal. "Both of these will form a tight seal and minimize the amount of oxygen leaking into the growler, which minimizes spoilage," according to John Jose, co-founder of Union Growler Company, in an interview with the Dallas Observer.
Government Labels: Some states require bars and breweries to see a government warning label on the vessel before they will fill it. Ideally, your growler will have it printed on the bottom. If not, there are also self-adhesive labels — like the ones included at the bottom of this roundup — that you can add to your growler.
With all that in mind, it's time to shop growlers. All of the ones below are highly rated on Amazon and come backed by beer drinkers.