These Durable Ice Scrapers Make It A Cinch To Break Up Frozen Blocks On Your Driveway & Car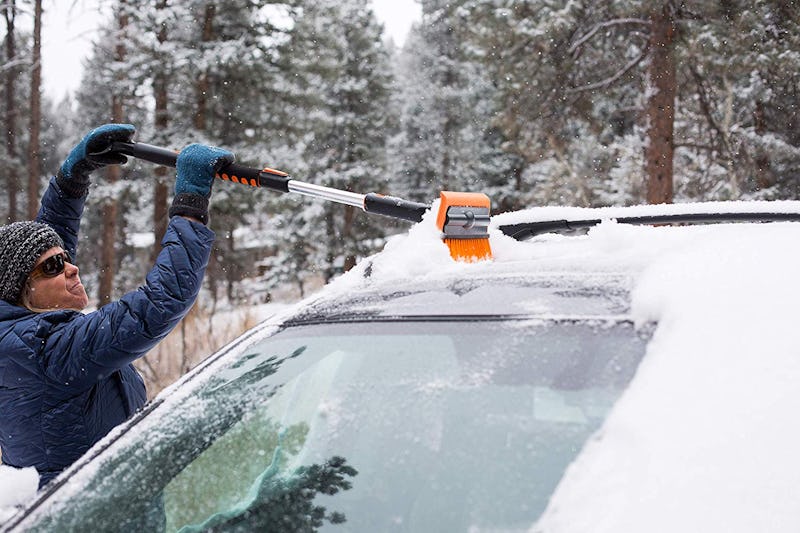 Amazon
If you've ever walked to your car on a frigid morning and found it covered in ice, you'd know how essential an ice scraper can be. When choosing one of the best ice scrapers, durability is key. It needs to be able to handle the toughest weather conditions while still maintaining a compact size for easy storage.
Depending on where you live, it may not be necessary to have an ice scraper with a built-in snow brush. If you live in an area where snowfall is relatively light, a simple scraper tool may be all you need to get the job done. For moderate or heavy snowfall, definitely go with a scraper that has a built-in brush for easy snow removal.
Aside from snow brushes, an ice scraper may come with an extendable handle that's great for clearing snow off larger vehicles, like SUVs or sedans. These also work well for reaching the center of your vehicle's windshield, which can be difficult to clear off.
Heated ice scrapers plug right into your car's 12-volt port and are great for breaking up ice in a hurry. They usually have a built-in coil under the scraper that melts the ice as you scrape, making it easier to remove even the thickest ice.
There are also ice scrapers designed specifically for icy, slippery sidewalks and driveways. A long-handled scraper can help break up the ice more easily than a show shovel, so you can safely clear it away without breaking a sweat. Just keep in mind these ice scrapers are not meant to be used on a car, so stick to sidewalks and driveways.
Whatever the weather forecast around you, you'll find the best ice scrapers for your needs below. All of them are available on Amazon and start at only $10.