These Wildly Popular Popcorn Makers Are The Key To Perfect Movie Nights At Home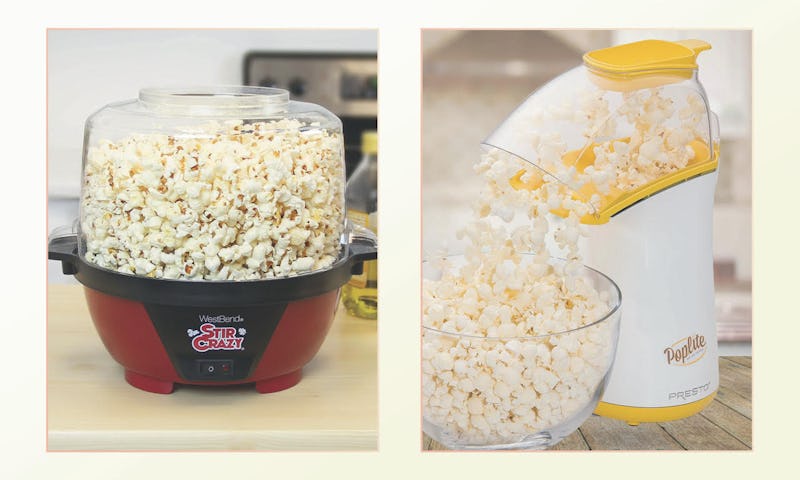 Bustle / Amazon
Whether it's an electric, stovetop, or microwaveable model, the best popcorn poppers will reliably turn out perfect kernels, and some can even be used for other kitchen tasks like roasting coffee. Ahead you'll find a breakdown of what each popper type has to offer. To find the best one for you, consider the amount of storage space you have and your desired commitment level since options range from simply plugging them in to manually cranking for several minutes.
Electric
Pros: Electric popcorn makers do all of the work for you and all you need is an outlet. One type, the air popper, works without oil for healthier snacking, and while these units are easy to clean, they may not deliver quite the same "movie theater popcorn" flavor you're used to. Electric popcorn poppers that do work with oil typically make tastier popcorn, and some people like electric units for roasting coffee, but they usually require modification and thus aren't my top pick for that purpose.
Cons: Electric poppers can be bulky and take up key storage space. Plus, models that use oil tend to be harder to clean since there's no way to remove the baseplate from the electrical components.
Stovetop
Pros: These vintage-looking metal pots come with a manual crank that can be fun to turn if you're into the artisanal process. The pot uses an interior metal rod that stirs the kernels, but you can also make different types of small snack foods like roasted nuts or caramel corn since the rod helps evenly distribute both temperature and toppings. In terms of roasting coffee beans, a stovetop model gives you more control over the temperature for the perfect roast.
Cons: Stovetop models can be heavy and some people may find it just too tedious to crank for the time required.
Microwave
Pros: Simple to use and affordably priced, a microwave popcorn popper is super versatile because it works with or without oil, and since it's essentially a bowl it can be used for serving other snacks too. Some are silicone and collapsible for easy storage, while others are made from heat-resistant, nontoxic glass.
Cons: You'll have to find the "sweet spot" for time to avoid burning, and they often end up with a few unpopped kernels at the bottom of the bowl.
These six popcorn poppers are road-tested for turning your average next movie night into the ultimate snacking experience.
We only recommend products we love and that we think you will, too. We may receive a portion of sales from products purchased from this article, which was written by our Commerce team.