Give Your Fine Hair A Major Boost With These Volumizing & Oil-Regulating Shampoos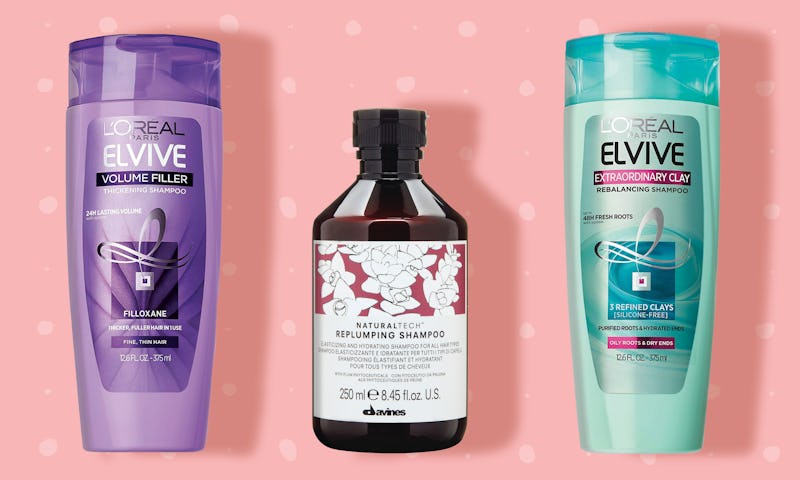 Amazon / Bustle
As someone with thinner hair that hangs straight, I know all too well the struggle of finding the best shampoo for fine hair. Many shampoos that claim to be volumizing fall flat (literally), and you can forget about using any of those super-nourishing formulas entirely — unless you're into hair that looks slick and greasy.
But luckily, there are some volumizing formulas out there that do actually work. From shampoos that use unique technologies, like L'Oréal Paris' Filloxane, which was specifically developed to help hair appear thicker and fuller (more on that, ahead), to ingredients like kaolin clay, which naturally helps add volume while regulating oily roots, there are options to fulfill each and every hair goal. There are even moisturizing shampoos for fine and frizzy hair that won't weigh it down, thanks to formulas that are free of heavy silicones.
And while a shampoo alone can't give you Pantene commercial-level hair, it is the building block for faking your way to fuller hair. But if you find yourself wanting even more volume and texture, reevaluate the rest of your routine. Products that can be applied on damp hair, like mousse and sea salt spray, will help provide texture before you even blow dry, while dry shampoos and texturizing sprays can build volume on dry hair and revive second day styles that may have fallen flat.
Scroll on to discover six of the best shampoos for thin, fine hair.