Amazon Reviewers Love These Brilliant Socks Won't Fall Down In Your Boots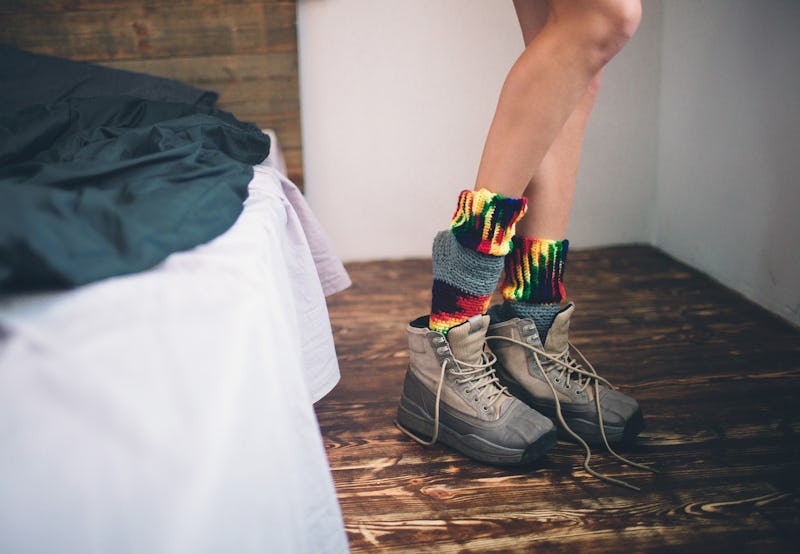 Estrada Anton / Shutterstock
If you've ever had to stop because your sock keeps falling down in your boot, you know that it's pretty frustrating. Luckily, the best socks for boots are designed to not only stay up (usually thanks to smart designs like a ribbed cuff at the top), but also provide comfort for your feet. When looking for a great sock to wear with boots, consider the following:
Sock length: The appropriate sock length depends on the height of your boot, and whether or not you want your sock to be visible (which is mostly a style decision, not a functionality one). For example, if you're wearing a short bootie and don't want your socks peeking out the top, ankle length socks are probably best. If you're wearing cowboy boots and want to make sure that the boots aren't rubbing against your legs, longer crew-length socks are ideal.
Material: Many socks are made from cotton, which is soft, breathable, and comfortable. However, if you're looking for socks that are designed to keep your feet warm in winter and cool in summer, be on the lookout for Merino wool socks, a favorite of hikers but suitable for most boots, too. If your feet tend to sweat easily, there are extra moisture-wicking styles often made with specialty polyester designed for extra air circulation, too.
Comfort: Some socks feature extra cushioning and support, which is ideal if you're walking long distances or if your shoe isn't the comfiest.
Before you put on your boots, check out these six highly rated socks from Amazon.