Less Broken Glass, More Vino — The Best Stemless Wine Glasses For Your Party
by Ileana Morales Valentine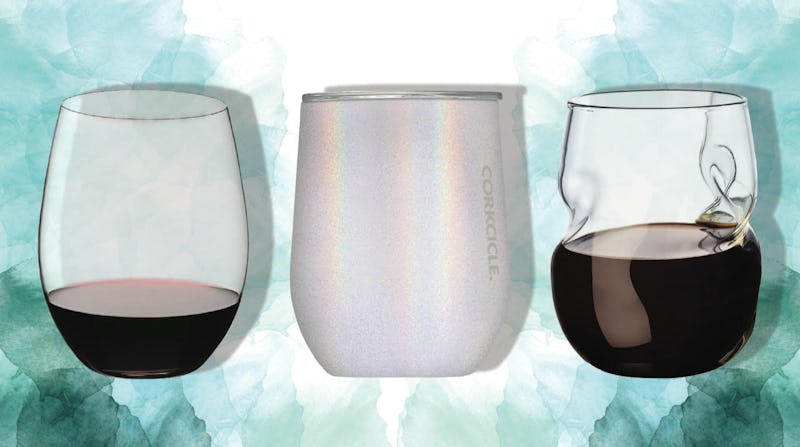 Amazon
Whether made from indestructible stainless steel, classic glass, or even silicone, the best stemless wine glasses offer a casual vibe for enjoying your favorite vino. Finding the right material for you is a matter of personal preference but here are some things to consider.
Stemless wine glasses made of glass will feel the most classic for drinking wine, and some are made for certain wine varietals; just keep in mind the heat from your hand as you hold the glass may affect the temperature and obscure more complex flavors in a wine. Also, though they're less likely to tip or break than a long, top-heavy stemmed glass, they're still breakable if dropped.
Stainless steel tumblers are more heavy-duty and ideal for outdoor drinking since they won't break and will maintain your drink's temperature, especially if it's best enjoyed chilled. Silicone wine glasses are another unbreakable option especially convenient for the outdoors, and they're more lightweight, which is perfect for camping or traveling. It's worth noting these don't usually come with lids and the flexibility of the "glass" can take some getting used to.
Some stemless wine glasses may be dishwasher safe, but even if they're not, you'll find them easier to wash than a delicate stemmed wine glass with its long shape.
After breaking all but one of my traditional wine glasses, I'm sticking with the best stemless wine glasses. They're simply easier and more enjoyable to have around. Keep reading for the best ones to add stock in your kitchen.
We only recommend products we love and that we think you will, too. We may receive a portion of sales from products purchased from this article, which was written by our Commerce team.