6 Stylish Work Heels That Are Actually Comfortable (Because, Yes, They Do Exist)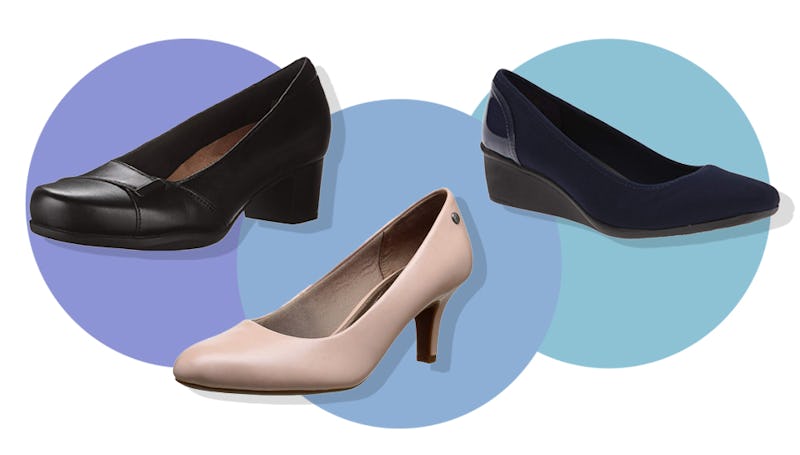 Amazon/Bustle
A sad truth: Work shoes that pinch your feet, give you blisters, or make you limp to your desk are way too common. But when you're crushing your to-do list, the last thing you want to worry about is foot pain. That's why upgrading to the most comfortable heels for work is a true office game-changer.
But what makes a pair of work heels comfortable? While some of it is up to your personal preference, having a good sole is key. The most comfortable work heels all have a soft, flexible sole with lots of cushioning to cradle your feet while you're hustling to the next meeting. Some shoes even feature an orthopedic footbed, which is excellent if you struggle with foot pain.
Obviously, style is important when it comes to choosing work shoes, but you'll also want to consider features that only add to your comfort level. For example, you may be good to go with low-heeled pumps, but you know those wedge booties would start to sting by the end of the day. And, if you have any chronic foot issues like bunions or plantar fasciitis, you'll want to keep those in mind in order to find heels that will be most comfortable for you (wide widths are often the right choice for bunion sufferers, whereas arch support is the name of the game for plantar fasciitis).
Here's a roundup of some of the most comfy heels for work out there so you can be sure your feet will feel great from nine to five.